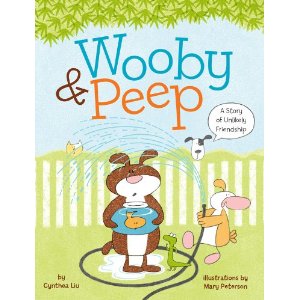 I snickered taking this book out of the package it came in. Wooby & Peep
. You just know it's going to be fun to read.
This is, as the subtitle suggests, a "story of unlikely friendship." Wooby leaves in a quiet neighborhood. Everything is predictable and people keep to themselves. Then Peep moves to town. Peep doesn't seem to notice the beauty of the quiet and still neighborhood. Peep makes noise. A lot of it. Furthermore, in Peep's effort to make friends, he knocks down Wooby's 547 year old tree. And destroys Wooby's house. Wooby does not like Peep. But then. Then they discover that they have a mutual affinity for the game Go Fish and their worlds are revolutionized.
Truthfully, I kind of think this picture book is more for adults than children. Perhaps it's just that I identified with it a great deal, living in a quiet neighborhood as I do. We had some loud neighbors move next door, temporarily. Peeps to my Wooby. I like quiet. I suppose children would identify with the idea that you can sometimes make really good friends with people who are very much unlike you. (Such surprises are always great surprises, aren't they?! We should remain open to such things. You just never know!) But the concept of neighbors probably runs closer to home (heh) to adults than kids.
On the whole I think Wooby & Peep
is quite cute and fun to look through. Their main character's names are certainly fun to say outloud. Several times. (Clearly I have little children. My sense of humor has been warped!)
All in all, a fun story and I recommend it.
Thanks to Sterling Publishing for shooting a copy of this book my direction in exchange for my honest thoughts.
Carrie blogs about books, sometimes simultaneously writing her posts while the neighbor's boys are practicing with their band, over at Reading to Know.