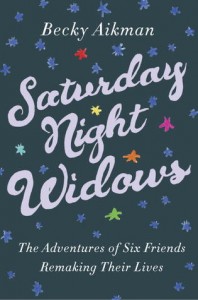 I generally don't read many memoirs, but the title of Saturday Night Widows: The Adventures of Six Friends Remaking Their Lives drew me in. Written by Becky Aikman, the book tells of the very unscientific experiment Becky undertook in forming a nontraditional support group for widows. The preface truly drew me in, as Becky attends a traditional support group eighteen months after her husband Bernie has died. An epic disaster, Becky is essentially kicked out of the group for being too young compared to the other widows (and one widower) in the group and for challenging the idea that they are there to wallow in a pity-fest.
The remainder of the book alternates between the present, the year during which Becky had the monthly support group gatherings – you can't call them meetings when they are all about trying new things and finding ways to live their lives – and the deaths of the six women's husbands. Almost every chapter alternates from one to the other – with some additional scientific findings she shares from the experts in the field she consults as she navigates her path through grief.
Personally, I found it somewhat disjointed to read it this way. I loved reading about the gatherings and what the women did and said and learned. Recognizing that there are triggers for the women, underscored by the cooking class that was surprisingly difficult for the women who had cooked regularly for their husbands, was a revelation to me – who has never undergone this sort of loss. I also appreciated hearing the histories of the women in the group and how they lost their husbands and what brought them to the point where they were willing to join the group. My challenge came when it was interspersed within the chapter, as I was never really able to get a flow in the book. It was too easy for me to put it down due to the disjointed nature of it rather than wanting to read "just one more page" as I do with so many books.
For whatever reason, I also found it somewhat difficult to keep the women straight. A couple had very definite personalities – Marcia the no nonsense type A lawyer, for example – but remembering who was who and how their husbands died and what their current situations were was surprisingly difficult with only six main characters in the book. Had it been laid out differently perhaps with chapters on each of the women and their backstory at the beginning of the book, it might have been easier for me to remember and keep track.
I also found it difficult that so much clinical insight into the grief process or recent studies on grief was interspersed with the beautiful story of how these six women who had nothing in common but their relatively young widowhood (and a measure of affluence) developed from wary strangers into a collective group that built each other up and supported each other in a way that they needed, not in the way a traditional support group might or how society expects widows to behave. For much of it, the book felt as though Becky were trying to place herself outside the group she had formed, a cruise director rather than an active participant, and that made it harder for me to relate, as well.
That said, I thoroughly enjoyed reading about the adventures the women shared. I loved seeing a "new" version of a widow who doesn't spend her time wearing weeds and constantly mourning. It is uplifting to see women regain the light that shone in them before tragedy struck, painful as it sometimes was to watch the metamorphosis, and I'm glad that I read it. It gives me so much more insight and empathy for the treatment of widows and, in a way, a guide for how I will view widows going forward. Were I a widow myself, I believe this book would be far more powerful. That said, I would not recommend this book for recent widows. The widows in this book lost their husbands at least a year prior to joining the group, and they are ready to move forward with their lives, though unsure of what that might look like.
In the interest of full disclosure, I received a copy of this book for review purposes as part of the From Left to Write book club, where we write posts inspired by the book rather than traditional reviews. You can read the post this book inspired on my own blog Honest & Truly!  I was not otherwise compensated, and all opinions are my own.
Written by Michelle who thankfully is not a widow, though her husband is six years older…. You can see how she copes with life on her blog Honest & Truly!, as well as by following her on Twitter where she is also @HonestAndTruly.