Jennifer, Nancy, and Dawn were each privileged to serve as judges for this year's Cybils awards. Check out all of the winners on the Cybils site.
Here are some brief thoughts about the winners in our categories.
I (Jennifer) enjoyed serving on the Middle Grade Fiction round 2 panel. Escaping into the world of middle grade fiction for 6 weeks while I committed to read the 7 middle grade fiction finalists was delightful!
I definitely want to share my thoughts on all the finalists, so stay tuned in coming weeks for that (since my reviews were embargoed until after the winner was announced). But today, I'd like to comment on the winner. Wonder by R.J. Palacio is a book that I already had on my Kindle, because it had come so highly recommended. I was pretty sure I'd love it, and I did.
Wonder is the story of 5th grader Auggie, who is entering school for the first time, due to facial deformities that have caused him to have many surgeries over his first 10 years. But in spite of his physical differences, he's a normal kid who likes video games, has a great sense of humor, and is amazingly self-aware. What I wasn't sure is if it would have the "kid appeal" that is a big part of the Cybils award. And the answer to that is yes. This is at its heart, a school story. There are good kids, bad kids, good kids that sometimes act like bad kids to save face. I love this book and highly recommend it to any 9 – 12 year old reader.
*****
This was my (Nancy) first time serving as a Cybils judge, and I also enjoyed the experience on the Easy Readers and Short Chapter Books panel. We had to pick not one, but two winners, and it was no easy feat.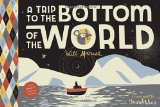 The clear winner of the Easy Reader category was a wonderful book from Candlewick Press, A Trip to the Bottom of the World With Mouse by Frank Viva. A boy and his friend Mouse embark on a trip to Antarctica, and while Mouse is constantly asking "Are we there yet?" and then "Can we go home now?" his delight with all they see and do is palpable. The fabulously unusual illustrations, combined with the repetition and easily decodable words make this book appealing to kids and adults alike. I also love that it's a comic for new readers, something you don't see often. I was sent a copy of the book since I had trouble tracking it down at the library, but it's one I would have gone out and bought the first chance I got.
Sadie and Ratz, winner of the Short Chapter Books category, is a bit darker as it dives into the world of sibling rivalry. Author Sonya Hartnett gets into kids' heads and deals with a very real topic that kids will relate to, and illustrator Ann James' charcoal drawings add realism to an emotional subject. In the story, Hannah's hands, named Sadie and Ratz, aren't animals, but they behave like wild beasts, and they like to take revenge on Hannah's 4 year old brother by trying to rub his ears off. When things start happening around the house that Sadie and Ratz are blamed for, Hannah learns Baby Boy is a force to be reckoned with. Sadie and Ratz has been compared to the classic Where the Wild Things Are, and I think it's an apt comparison, as both take on a side of childhood that's often ignored.
*****
Having had the privilege of serving on both the round one and round two panels since 2009, I (Dawn) was happy for the chance to be involved with the Cybils again this year. I was lucky enough to be on the round 2 panel, and to continue to be a part of the Fiction Picture Book category– the segment of children's literature I love best! This year's crop of finalists held some surprises for me, but I was thrilled to see some of my favorite new books from the year included.
Our final winner, A Home for Bird by Philip C. Stead, wowed me last summer when I first saw it on my library's shelf. I was initially drawn in by the author's name, for I already adored his previous book A Sick Day for Amos McGee. When my children and I first read this one, we all immediately fell in love with thoughtful and kind Vernon. The toad comes across a quiet little blue bird, and he assumes his silence is due to shyness. Vernon doesn't force him to open up, but simply tries to be a friend to the bird. He tirelessly works to help return the bird to his home, and in the end, his success is both touching and humorous. In a picture book, of course, the illustrations are a pivotal aspect of the story, and young readers will be reminded to pay close attention to all the details– even in the pictures that appear before the text, for the secret to the bird's true identity is revealed before the story even begins! A Home for Bird holds a quiet beauty with emotionally evocative illustrations and a character who embodies kindness. Stead has created a perfect blend of tenderness and humor here, and I'm so happy he has received Cybils recognition!

Go ahead and click on over to find out the winners in all the categories of the 2012 Cybils. For more great reading, look at the 2012 finalists in all the categories as well. After working hard in both round I and round II, we realize what it takes to get on the finalist list and think that they should all be explored.