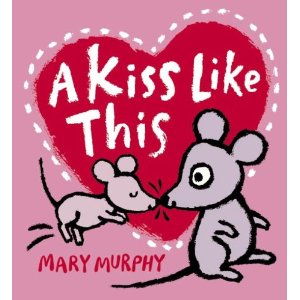 I don't know about you, but I have a hard time finding Valentine picture books that I like. Perhaps I am too picky. Then again, maybe not. Part of the problem that I have is that we homeschool our children and a great number of Valentine picture books take place in classroom situations. That is all well and good but we don't identify with them very well. (We do make Valentines for our close friends and family, but nothing on a massive scale.) Nor do I go for books which talk much about boyfriends and girlfriends. I'm always on the lookout for something I find more suitable for kids ages 1-6 (coincidentally the age range of my children!) that are a bit more general in their "love theme." When offered a chance to review these two titles from Candlewick Press, I jumped on it!
A Kiss Like This
, by Mary Murphy is a perfect fit for my almost two year old. It's all about bestowing affectionate little pecks on one another. Featuring animals, it's a sweet and cuddly read. It compares how different animals give kisses (e.g., giraffes give gentle and tall kisses while mice give quick and small kisses) while allowing the reader to bestow their own little hen pecks as they go along. This is a fantastic book for loving mommies and daddies (grandparents, etc.) to read with their babies. Get some extra cuddle time in with this one!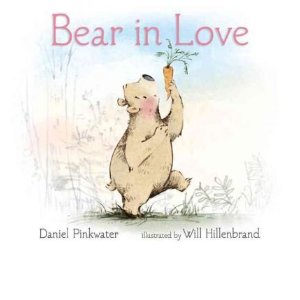 Bear in Love
had a much more complex storyline than the above title. This book, by Daniel Pinkwater, tells us the story of Bear who awakes each day to find tasty, crunchy treats left outside of his cave. He doesn't know who is leaving the treats for him, but he speculates in little songs and enjoys his snacks tremendously. Eventually he decides to leave a return gift and tries to stay awake to see who this secret admirer is. Unfortunately he keeps falling asleep and so his anonymous friend remains anonymous for some period of time. The carrot is a dead giveaway, really, and, at the conclusion of the story, an unlikely friendship is formed.
The illustrations by Will Hillenbrand really bring this story to life. I particularly enjoyed how he used dull and lighter colors to cause the background to fade into the, well, uh, background, while giving all of the life and color to the main characters in this book. It really makes Bear and Bunny pop out of the page a bit.
My older two enjoyed this story and thus our home Valentine's Day book collection grows by two titles. Hurrah!

Would you care to expand your book collection as well? I am delighted to say that Candlewick Press has offered to give away one copy of each of the above titles to one of you! The giveaway is closed.
Thank you, Candlewick Press, for your generosity to our readers. Thank you also for sending the above books my direction in exchange for my honest thoughts.
We have a ton of current giveaways. Subscribe to our feed. Follow us @5M4B on Twitter or on Facebook.
The winner of Afterwife is #1 Van.
Carrie's children's book collection is getting quite large. But she's not complaining. She talks about their books, as well as those she reads for her own personal pleasure over at Reading to Know.