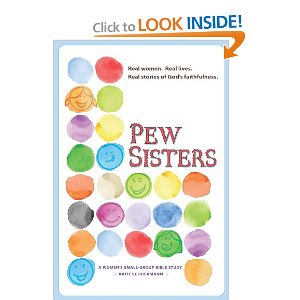 I was asked if I'd like to review a copy of Pew Sisters
, by Katie Schuermann and I agreed to give it a try with some hopes that I would find a great gem in the world of women's devotional books. It is marketed as a "women's small group Bible study" and has the goal of causing women to realize that God put them in churches together to support and encourage one another. That is certainly an honorable goal and something that I most certainly appreciate.
The book arrived and it wasn't quite what I expected in terms of the study itself. I had the idea that it was going to focus on scriptures which talk about the need for the Body of Christ and while I suppose you can say that this book does that, in a way, it's not very straight forward in its approach. Each chapter reads as a devotional, telling of a real life challenge that some one (like you, like me) has faced. Following the story there are a series of discussion questions, words from a hymn to meditate on, and a prayer to pray. Each chapter is given the name of a woman and she the focal point of the devotion. For example in Chapter 10 we meet Gabriella who has five children and just discovered she is pregnant with her sixth. She feels out of place in society as her pregnancy is met with disapproval. She eventually learns that 'children are a blessing from the Lord' and learns to be thankful and joyful.
I get what this book is trying to do. It is trying to show us through life situations that we can identify with – from having cancer, to losing loved ones, to having miscarriages or multiple children – that God is with us, working out the details of our lives. And furthermore He has most likely surrounded the majority of us with women friends who can (or should!) be able to rejoice with us when we are rejoicing and weep with us when we can do nothing but weep. I do agree that women are very bad at offering sympathy to one another as a general rule and very seldom encourage one another with scripture. This is something that I agree needs to change. I just didn't necessarily think that this was the best book to bring such change about.
The thing that causes me the most hesitation in this book is the author's frequent statement: "scripture says _____" (insert statement of choice). But she never provided the scriptures she was referring to. There is a passage of scripture given at the head of each chapter but they are rather easily glossed over and not referenced again after their initial mention. The Body of Christ does need to recognize that it is designed to work together, to comfort, encourage and extole one another. In order to learn to do this right and effectively, it's going to take more than just a "coffee shop conversation" (although it might take a few of those as well!). We really need to be digging into Scripture and applying it to our lives. We need to take hard looks at what God has called us to and then conform. If we obey the Lord in loving others (particularly those to whom we are joined to in our local congregations) then the Church will be highly effective.
I do think that this book is trying to be as scripturally accurate as possible. In the Forward, which is written by Rose Adle, she exhorts women who are looking for devotional books to ask themselves the following questions,
" . . .[I]s this book theologically sound and doctrinally rich? Or is it vacuous or heterodox? If women are liberated enough to roar, surely we are strong enough to insist on faithful interpretation and application of Scripture."
To that I give a resounding AMEN! So, I ask myself if Pew Sisters
is theologically sound. I would say that yes, it is. Is it doctrinally rich? I think it falls short of "richness." It is not very detailed when it comes to instruction from scripture itself. Is it vacuous? I would say yes, actually. I didn't think it was terribly deep on its face. I recognize that it's designed to spark live conversation but I would have a hard time connecting with the stories without having scripture verses attached for me to really dig into. It's harder to dig into someone's personal story when you want to learn more about who God is because the person attaches so many emotions to events in their lives that it's sometimes hard to dig out the ultimate truth. (You can do that. But if I'm using a devotional in order to know God, I want scripture in front of me.) Lastly, is it heterodox? I think it conforms to accepted or orthodox standards and beliefs just fine.
In summary, I don't think this book is bad necessarily. I just think it's weak. I probably would not choose it for a devotional with a group of women and I wouldn't participate in a group who used it. Again, not because I think it's bad but I'd rather gnaw on steak than eat a thin meat sandwich, so to speak. I think it could be better. And if you can engage with something better, you should.
I do very much appreciate Concordia Publishing House offering a copy of this book for my review in exchange for my honest thoughts. I have indeed faithfully given them.
Carrie writes book reviews from a Christian worldview over at Reading to Know.