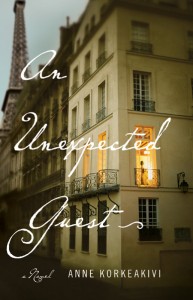 I finished reading An Unexpected Guest, the debut novel by author Anne Korkeakivi, several weeks ago and have been pondering what to write about it ever since. Although the events in the book take place over the course of one day, the way that day unfolds brings the main character face to face with her past, adding layers of complexity to even the most simple of choices.
Claire Moorhouse is the American wife of a British diplomat stationed in Paris. Due to the sudden illness of the British Ambassador, she has been tasked with hosting a dinner party that evening, coinciding with rumors that her husband, Edward, is favored for the soon-to-be-available Irish ambassadorship. Unfortunately, we also learn that Claire is torn between her commitment to supporting her husband's career and her desire to avoid setting foot on Irish soil ever again. The reason for this is revealed throughout the day, as Claire reflects on a time in her youth that she has never shared with anyone, including Edward.
Even while Claire smoothly begins her preparations for the important event, she is further troubled by a call from her younger son, Jamie, who has apparently left his boarding school without permission and is on his way home. Although it is unclear until much later in the day the nature and extent of the problem, she eventually learns that he is in danger of suspension and possibly worse, if he continues in the direction he has started.
The memories of Claire's past are interwoven with her attempts to discover exactly what is going on with Jamie and the execution of her myriad hostess duties, from planning the meal with her tempermental chef to visiting shops for necessary items such as cheese and flowers to writing out the place cards once the guest list has been finalized.
In this elegant novel, Korkeakivi gives us an intimate look into the intricacies of embassy life and how the expectations and requirements of that world affect Claire's decisions in matters both small and large. Beyond this, she has created a complex and thoughtful character with whom we can empathize over her realization that her choices will affect the well-being of not only her immediate family, but of those she interacts with during the course of her day, some in more crucial ways than others.
An Unexpected Guest is an entrancing book which builds slowly, layer upon layer, but rewards the patient reader powerfully in the end, and I was surprised how much it stuck with me even after finishing the book and moving on to several others since then. I'm curious what books have left a surprisingly lasting impression on you and would love for you to leave a comment with your thoughts.
Trish has definitely made a few choices in her life that she would like to revisit, but is grateful that we can at least learn from our past and make better choices in the future. She blogs at In So Many Words.
A few other thought-provoking novels: