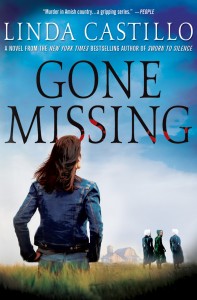 Gone Missing
is the fourth installment in a gripping series of Amish thrillers by Linda Castillo. The books feature Kate Burkholder, chief of police in the small town of Painters Mill, Ohio. The area is home to a large Amish community, and Kate's Amish upbringing uniquely qualifies her to bridge the gap between the Amish and non-Amish when there is a crime to be investigated.
In this case, Kate is called away from Painters Mill to consult with the Ohio Bureau of Criminal Identification and Investigation regarding a series of missing persons, all of whom are Amish teenagers in the midst of their rumspringa. During this time, the young people are allowed to engage in behaviors outside of the traditional strict rules, prior to making the commitment to join the church. Now several of them have disappeared and the Amish have called in the police after being unable to locate them on their own.
Working closely with state agent John Tomasetti, Kate brings her knowledge of the Amish to help the team gain as much information as possible from the families of the missing teens. The search becomes even more intense once a body is discovered, and the investigators race against time to find the others while they are still alive. Their findings take them in several different directions as they follow every lead they can dig up, with the truth becoming more and more sinister the closer they get.
With Gone Missing
, Castillo gives us a chilling tale that shows us it is not always possible to avoid evil, no matter who we are or what we do. The story is well-rounded, with good characterization, fast-paced action and a fascinating setting that is rarely seen in a suspense novel. In the midst of this, we also see some romance, as Kate and John explore the tentative relationship that began earlier in the series.
Just in case you are thinking this is like your typical Amish novel, I should tell you that there is some swearing and sexual activity, as well as the violence and gore associated with the crimes that have been committed. This is not meant to warn you off of the book, merely to give you a heads up if thrillers aren't your usual genre. For those who enjoy a good mystery, or are willing to give them a try, Gone Missing
and the rest of the Kate Burkholder series would be a good place to start.
To celebrate the release of this book, St. Martin's Press is providing a giveaway package (open to US addresses only). Simply leave a comment below to enter, and we'll announce the winner on July 25th. This giveaway is now closed.
One (1) winner will receive:
About the author:
New York Times bestselling author Linda Castillo lives in Texas with her husband and is currently at work on her next book in this series, also set in Amish Country and featuring Chief of Police Kate Burkholder. Visit www.lindacastillo.com to learn more.
Don't miss a thing: Check out our current giveaways. Subscribe to our feed or video reviews on YouTube. Follow us @5M4B on Twitter or on Facebook.
You can visit Trish online at her blog, In So Many Words.
Looking for some more thrilling reads? Check these out: