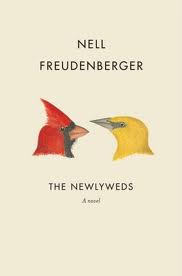 Meet Amina and George, The Newlyweds. They are not your typical American couple. In fact, they aren't even both Americans. Having met on the AsianEuro.com matchmaking site and gotten engaged after George traveled to Bangladesh to meet Amina and her family, they are now married and living in George's home in Rochester, New York.
As Amina adjusts to her new life, she works hard to improve her English and learn the information necessary to become a US citizen. But the changes that take place in her go beyond learning a new language. As she slowly assimilates into American culture, she begins to feel like two different people live inside her, one the daughter from Bangladesh and the other the wife and student from America. Even more than that, she wonders how her husband can only see the person she is becoming rather than the one she has always been.
It is hardly surprising that George doesn't understand the changes taking place in his wife. Despite their open correspondence before they met in person, they don't seem to talk much about what they are thinking and feeling once they are together. Only when Amina realizes that there are secrets floating beneath the surface does she begin to reevaluate everything that has happened between them.
The character of Amina resonated strongly with me. On the surface we are worlds apart, with completely different family backgrounds, cultures, and even religions. And yet I felt a connection with this young woman who is trying to find her way amidst all the conflicting expectations being put on her from the people in her life, and I just wanted her to find peace, whatever that ended up meaning to her.
This book has received mixed reviews so far, and I am not surprised. The level of mundane detail could easily turn some people off. In my opinion, however, this is one of the things that makes it such a good book. The changes that occur over time, almost without us noticing, can end up making as much of a difference in our lives as the dramatic, but much less common, twists and turns.
Of course, I am interpreting this story based on my own experiences and position in life, and I am not really in a position to comment on the authenticity of the characters or cultures represented. For me, right now, The Newlyweds by Nell Freudenberger is a book that challenged me to look at the gradual shifts that occur within us and our relationships from a different vantage point and, for that, it was a worthwhile read.