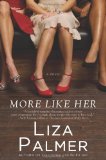 More Like Her
is touted as a book that exposes what really goes on behind seemingly perfect public lives, but it's really more about women reinventing themselves to please their man and then beginning to think out the ramifications of that. It's also about what happens when a truly horrific event impacts a small community of friends. It starts out like chick-lit, with a woman dealing with a devastating break-up, but it develops into something deeper and more thought-provoking.
Frances Reid has a successful career as a speech therapist at an exclusive private school in Pasadena, and she and her close friend and co-worker Jill are both up for a promotion to head of their department. Jill's happily married, but Fran is getting over a bad break-up. The novel opens on the first day of school, when Jill and Fran meet the new headmistress, Emma, a woman who oozes perfection from every flawless pore. They also strike up a friendship with another new teacher, Lisa, from New Jersey. And, into Fran's life comes a new man, Sam, owner of an architectural/construction company that's building a new addition to the school. With Sam, Fran tries something new—being herself, instead of simply trying to please. Jill and Lisa are on hand to offer advice and counsel and demand details.
Gradually, Fran and Emma begin to build a friendship, as Fran gets glimpses of the real woman behind the perfect house and perfect marriage. But Emma's perfection is sadly flawed, and eventually the lies she hides behind are revealed as the gossamer-thin falsehoods they are. At an event in celebration of her birthday, her husband guns her down and turns his guns on the other teachers; they are saved by quick-thinking on the part of the construction workers. One thing I really liked about this novel was how everyone dealt with the aftermath of terror. Reactions vary from those who can't stop talking about it to those who refuse to talk about it, but it is absolutely overwhelming to everyone. (One small gripe: these 3 women manage to keep the fact that they were there at a shooting hidden from their parents until they are ready to discuss it. Um, wrong. Their parents would have seen it on the news and called them, freaking out, within 2 hours of it happening. Hello real world?)
The shooting happens relatively early in the novel, and it changes the storyline. It has Fran rethinking her budding romance with Sam, and Jill rethinking the foundation of her seemingly-solid marriage to Martin, as everyone comes to realize the price that lies can demand. (It's interesting to compare the two marriages in the book; Jill and Martin, and Emma and Jamie) It pushes Lisa to commit to Grady. The ending is a little trite, but satisfying nonetheless.
More Like Her
has friendship and romance, tragedy and reconciliation, recognition of truths. In the end, it's a summer read that will leave you thinking about what's important in life.
Elizabeth has been married for a really long time, but she remembers what it's like to agonize over how much of your 'real' self to show a new boyfriend. Read more at her blog Planet Nomad.