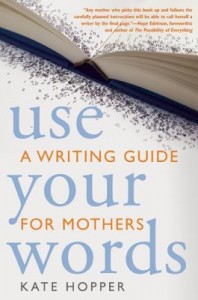 Bloggers, journalers, scrapbookers, birthday letter writers, Facebook status-updaters — motherhood tends to make us writers in one or more of these ways.
I've always processed by writing, becoming a different type of person as the words made their way from my head and heart onto the page — more introspective, more expressive of my thoughts and emotions. Motherhood also has this effect on me, so writing about motherhood seems a no-brainer.
Whether I'm writing about the books we share, or wrangling the teen years, or memories of my own mom, my blog is definitely fueled by the fact that I'm a mother.
If you are a writer, or used to be a writer, or desire to be a writer, I highly recommend Kate Hopper's book Use Your Words: A Writing Guide for Mothers. I haven't read it all the way through, but I've read enough to know that it's just what I look for in a writing guide. It's instructive, inspirational, and challenging.
Instructive
Chapters are devoted to
character development
voice
humor
tense
structure
content (specifically tips to help you write "the hard stuff")
Inspirational
Kate Hopper shares her own journey of choosing to write about motherhood, in spite of the fact that this somehow seemed less serious to other writers.
One of the things that inspires me to write most is good writing. Use Your Words is full of excellent writing, including essays to help illustrate the text by writers Beth Kephart, Chitra Divakaruni, Natalie Goldberg, Anne Lamott, Bret Lott, Flannery O'Connor, and many more.
Challenging
This is the part that I need to put into practice. There are several writing exercises in each chapter that prompt you to stop reading about writing and actually WRITE! I'm hoping to spend some serious time working through this this summer, and am hoping to start some new good habits that I can keep up even once my schedule picks back up in the fall.
Check out this interview with author Kate Hopper talking about how she used writing as a therapeutic transition from her previous career as a writer to full-time care of her premature infant. I promise it will encourage all of you who want to write, but never feel like you have enough time — although as my blog testifies, my book reviewing has taken the place of that writing that I love to do, but this book has been inspiring me.

Read Elizabeth's essay about a time when she had to mother the motherless, as inspired by the book over at 5 Minutes for Mom today, and leave a comment on THAT post if you'd like to enter to win a copy for yourself.
I did write a post using one of the writing prompts at my blog. Please check out The Cake Fight, a reflection about my own mother and my mothering style.