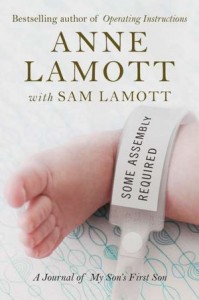 I love Anne Lamott, but honestly, I don't know how much of her stuff I've read. But she is who she is, so if you know and like her at all, you come to love her completely: unfailingly honest, disarmingly humorous tales of her life as a writer and a pilgrim on her own journey of faith.
Some Assembly Required: A Journal of My Son's First Son lives up to these standards. It's a loosely structured memoir — no chapters, no grand conclusions, but rather true journal entries in which she shares her joy at being a grandmother, her struggles with her emotions and the hardship that her son is facing as an unmarried, not-yet-twenty-year-old father.
Kids are hard — they drive you crazy and break your heart — whereas grandchildren make you feel great about life, and yourself, and your ability to love someone unconditionally, finally, after all these years (page 32 ARC).
In Some Assembly Required, Anne Lamott shares the ups and downs of parenting an adult child, having a relationship with a "daughter-in-law" (actually not "in law" since they haven't married), growing older, dealing with loss, controlling conflicting emotions as she seeks to love her son and his new family unconditionally as she also grapples with the desire for them to accept her opinions on the right way to live (as they so easily accept her money).
It's not nearly as sinister as it sounds. It's so very real. Reading Anne's thoughts as she processes, shares conversations with others (and sometimes even those she has with herself), puts the reader right there in the moment. I sympathized with her joys and struggles completely and also admired her for the way she endeavors to keep out of the middle of things. She also shares informal interviews with Sam, recording his thoughts on fatherhood and the changes his son Jax goes through in the first year.
I loved the connectedness that was so necessary to her raising her son Sam on her own, which she shared in Operating Instructions: A Journal of My Son's First Year. It truly takes a village, or in Anne's case, it takes cousins and nieces and dear friends, and spiritual mentors, and sobriety partners.
I enjoyed this book a great deal. I think it would make a wonderful gift for any grandmother, but especially one who has the joy of having an infant grandbaby in her life right now. It should also be required reading for any daughter or daughter-in-law to understand what the powerful tug of love can do.
CONTENT NOTE: There is some bad language. It's not pervasive, but some of it is strong, so if the Granny you have in mind would object to the f-bomb being dropped, then she would not find this a welcome gift.