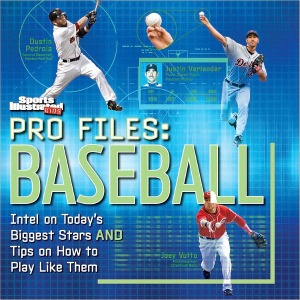 It would be an understatement to say that I'm not the world's biggest sports fan. But, I am married to a man who wears his favorite team's logo with pride, and my children are learning to follow in the footsteps of their sports-loving dad. As a result, I find myself looking differently at sports-themed books, knowing that there will likely always be interest in having them on the shelf.
Sports Illustrated Kids has released a new book this spring geared directly at Major League Baseball fans. Pro Files: Baseball: Intel on Today's Biggest Stars and Tips on How to Play Like Them includes information on fifteen MLB players, with stats through the 2011 season. With names like Mariano Rivera and Dustin Pedroia, even I could recognize some of these guys! (As the wife of a huge New York Yankees fan, I'm happy to report that they saved the very best for last, as Rivera closes out the book!)
This is the type of book that I know my eleven year old son will read again and again, as young baseball fans tend to also be fans of reading stats and such, and the background information on each player is engaging. As a little leaguer himself, I'm hoping that my son finds value in the sections that speak directly to technique and form, since he works on his own variety of skills on the field every week.
Action photos and realistic graphics accompany the magazine layout style of the text, and the entire presentation is interesting and most definitely appealing to young baseball fans. Even a few non-sporty moms like myself just might find themselves reading a bit here and there. Maybe I can retain a few facts and surprise both my son and husband the next time they watch Rivera wind up to pitch!
Dawn finds herself on her town's baseball bleachers a couple times a week each spring, though she admits to sometimes sneaking a book with her. She can be found blogging away at my thoughts exactly.