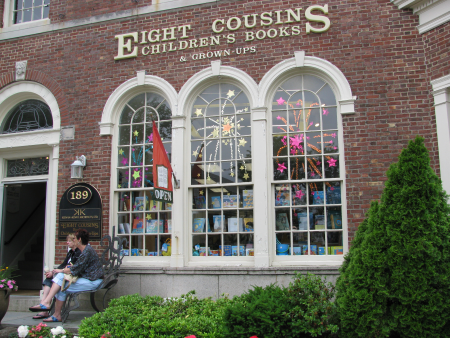 Most people who love books have probably walked into a bookstore at some point in their lives, taken a deep breath, inhaling the scent of ink and paper, and said to themselves, "I would love to work in a place like this." I was no exception. When spring semester of my freshman year in college rolled around, I realized that I was going to need a summer job — one that paid actual money, unlike most internships. I'd be going home to my parents in Falmoouth, Massachusetts on Cape Cod, and I couldn't think of a place in town where I'd rather work than Eight Cousins Children's Bookstore. Owner and bookseller extraordinaire, Carol Chittenden, has offered many jobs over the years to bookish high school and college students, and during spring break that year, I started work as a children's bookseller.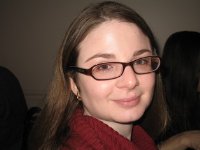 It was perfect. I was an English and creative writing major planning a research project on children's literature. The store was bright and full of gorgeous new picture books and enticing novels. Enchanting puppets lined the tops of the shelves. It was a reading paradise. The only problem was, there wasn't much time for reading during work. There were customers. On rainy August days, vacationers packed the store. There were shelves to restock and grand messes to clean up. But I used stray moments to familiarize myself with new picture books and store favorites, and I took novels home at night. I saw the kinds of books that were getting published. I read the award-winners and the books that my more experienced colleagues recommended. (The first three Harry Potters in galley form, before they were published!) I began to see what it would take to be a published writer of children's books.
More recently, as I began my career as a children's author in earnest, I worked part-time as a children's bookseller and children's events coordinator at another indie bookstore, Wellesley Books. This was great for several reasons:
First, after a few years away, I got to immerse myself in everything children's literature. I mentioned galleys above. These are also called ARCs (advanced reading copies). Publishers send stores boxes of books before they're available for sale to the public. They want us to read them, talk about them with each other and with customers, and be excited to stock them in the store and sell them. But stop a second — I had shelves and boxes of free books at my fingertips! I knew what was selling to publishers and I got some sense of how the lists at various publishing houses differed.
Second, handsellling books to customers is both a joy and an education. You get to put books in the hands of kids. And , if you're a children's writer, you get to see what kids are reading and enjoying, and sometimes you get to talk to them about their choices. I got to do story time (I briefly starred as the story time lady on community access TV). I saw which picture books captured children's attention. I got to think about why.
Third, I coordinated with publicists and children's authors who wanted to come to the store and to local schools for presentations and signings. I got to chat with people whose talents awe me. I started a signed book collection. And I saw how interesting and engaging a good author presentation could be and began to envision my own. I also got a reality check. When I was growing up, authors had been mysterious and wondrous far away figures. But actually, authors were fairly normal people, who often had trouble getting people to show up for their events. People are busy. Children are programmed to the hilt. It's hard to compete with soccer. This helped me go into my first book events with a more realistic sense of what to expect. When only people who have randomly wandered into the store show up to your signing, you know you're not the only writer who has had this happen. And who know, those random people might become new fans.
That being a writer can be isolating is a cliche. But I do think that writers can sometimes feel disconnected from their audience. Being a bookseller is a great way to cross the divide.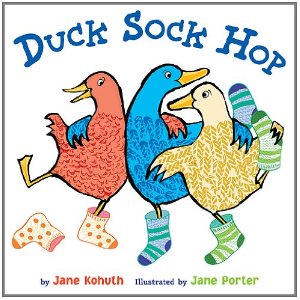 QUICK PLUG for AUTHOR EVENTS: Many children's writers give dynamic, fun, educational presentations. Keep an eye on your local store's website or on newspaper listings to see who's coming to your area. It just might be the author of your child's favorite book! Or it might be someone you're not yet familiar with, but whose books are destined to be staples of your bedtime reading. And you can chat with your child about the time he met the author and got to ask her questions. And you can look together at the special note she wrote just for your family.
Guest contributor Jane Kohuth graduated from Brandeis University with a degree in English and Creative Writing and from Harvard Divinity School with a Master's Degree in Theological Studies. She has worked as a Jewish educator, a children's room library assistant, a writing teacher, and a children's bookseller and organizer of author events.
Jane's first book, Ducks Go Vroom, was one of Parents Magazine's 20 Best Books of 2011. Her picture book Estie the Mensch is a PJ Library selection. Her new book Duck Sock Hop was published by Dial in May 2012, and she'll be holding real live sock hops in stores and libraries. She also visits schools to talk to students about writing and to run writing workshops. To find out more, please visit her website, www.janekohuth.com.