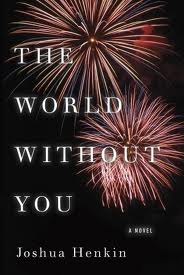 TRISH
In The World Without You, a novel by Joshua Henkin, the year is 2005. And as the July 4th holiday approaches, the members of the Frankel family are traveling from their homes to the family's summer place in the Berkshires. The reason for the trip is anything but celebratory, however, as they are gathering for the memorial of Leo, the youngest of the four siblings, who was killed one year earlier while on assignment as a journalist in Iraq.
Leo's parents, Marilyn and David, welcome the family with mixed emotions, having dealt with their own grief in such different ways that they are on the brink of ending their marriage of forty years. Walking unknowingly into this troubled situation are Leo's three older sisters – Clarissa, Lily, and Noelle – and Leo's widow, Thisbe, each bearing grief and troubles of their own.
Having traveled to my own hometown twice in the last six months to bury a family member, I am no stranger to the vexation of family dynamics. Even if you are fairly comfortable with the path your life has taken, no one else gets under your skin like the people who have known you your whole life. And it is almost impossible to avoid being dragged into other people's issues at a time like that.
Even when you want to reconnect and are hoping for better relationships, the risks that things will not go well make it easier to keep things superficial and to just get through the experience and go your separate ways again. That seemed to be the struggle each of the characters in the book was having, and the steps they take toward and away from each other give us a poignant example of the dysfunctional dance so many families experience.
My favorite scene was the one where Leo's three sisters and his widow speak at the memorial service, for that is where they seem most able to take the risk and share what is truly on their hearts. While I didn't love everything about this book, I did appreciate the realistic view Henkin gives of an imperfect family who somehow finds a way to hold onto each other and find a way past their loss.
JENNIFER
Trish and I ended up reading this book the exact same week. We had slightly different takes on it, because while she said "I didn't love everything about this book," I did love it. I loved every moment that I spent reading it. After reading quite a bit of light fiction and memoir over the last few months, this was the perfect return to literary fiction.
Just as I observed in my review of his first novel Matrimony, this is a character-driven novel, and I know that many people do not enjoy that type of story. But for those who do — like me — I am so happy to say that Joshua Henkin's second novel The World Without You lived up to or surpassed Matrimony.
Trish did a great job describing the plot and some of the characters and conveying the feel of the novel. I can't add much to that or even explain just why reading each page of this book warmed my heart. It's not a particularly heartwarming story, but it moved me. The family dynamic is complicated — each of the siblings as well as their parents have changed over the years, and the loss of their brother seems to have intensified some levels of family dysfunction. In coming together for his memorial service a year after his death each family member is wrestling with issues. Some of them find peace and resolution, while others simply continue on their current path.
By the end of the novel I felt as if I understood each of them a little better, and in "knowing" these characters and experiencing this time in their lives, it caused me to reflect on my own life and family dynamic.
Jennifer and Trish love reading and reviewing books. Find Trish online at In So Many Words and Jennifer at Snapshot.
Other Books You Might Enjoy