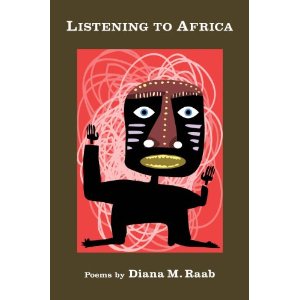 Diana Raab, her husband, and their 3 grown children went on an African safari together; this was in part to celebrate and affirm Raab's life after a diagnosis of bone marrow cancer. All the emotions of such a journey, from apprehension and homesickness to wonder and joy, are caught and displayed in this collection of poems.
From the mundane of trying to fit everything needed into one small suitcase, to the humour of watching mischievous monkeys lift the leftover breakfast with all the subtlety of small boys, to the stark realization that life in America does little to prepare one for the realities of glimpses of extreme poverty at the edges of marketplaces, Listening to Africa
takes the reader on a journey to new places.
I myself lived on the continent of Africa for 8 years, although I was on the opposite side of the continent, nowhere near safaris, inhabiting a world of camel caravans and sandstorms, veiled women and a fairly modern city, instead of floating on the Zambezi River or visiting the Victoria Falls. And of course living in a place, you experience it on a much different, deeper level than when you visit. But I can relate to much of the sense of wonder, the sense of alienation, the struggle to reconcile one's everyday life with overwhelmingly new experiences.
Raab is a lovely, thoughtful writer, and I thoroughly enjoyed these poems. I especially enjoyed her descriptions of the animals spotted on safari—seeing a parade of elephants slurping "nature's wine," responding to the gentle indifference of the giraffe, realizing the power of the hippopotamus in its native environment. I appreciated her honesty, as she relates her fear and discomfort, remembers the anniversary of her father's death, and deals with her reactions to poverty and illness. The poem in which she recognizes that were she living in a Tanzanian village with bone marrow disease, she would already be dead, is particularly moving.
Listening to Africa
is a delightful journey away from everyday life. I recommend it.
Elizabeth has always dreamed of being a poet, but her poetry kinda sucks. Learn more at her blog Planet Nomad.