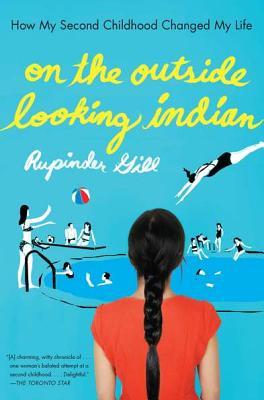 On the Outside Looking Indian: How My Second Childhood Changed My Life by Rupinder Gill was a light and lovely read. Memoir can sometimes be heavy, especially when one is reflecting on a childhood that was less than ideal, but Rupinder Gill is able to honestly confront her past without blaming her traditional Indian parents or bemoaning the affect it had on her.
However, she does decide to take things into her own hands. She takes a year and takes a "do-over" on many of the things she has never gotten over missing out on such as summer camp, sleepovers, Disneyworld, swim and dance lessons and more.
Her writing style was so refreshing, and while it wasn't the kind of eye-opening, thought-provoking memoir that I often read, it was so delightful and humorous in an understated way that I enjoyed every page. Rupinder Gill reminded me that it's never too late to live the kind of life you want.
Her style and humor are reflected nicely in this passage (page 39):
Oprah learned to swim at 40, so I would actually be a decade ahead of her in that achievement. Not to make myself a hero, but I'd be learning in a public pool, where my body and numerous screams for help would be exposed to the unsuspecting masses. Oprah, meanwhile, likely learned it in the privacy of her giant pool while Maya Angelou read her inspirational quotes and Stedman fixed them iced tea. But we both had the goal of learning to swim, and by Gayle I was going to achieve it.
She could have gone deeper and explored her feelings and reflected more on how this second childhood truly changed her life, as she indicated in the subtitle, but that would have made it a completely different book. It might just be this particular stage in my life, but the upbeat anecdotal style was just what the doctor ordered.
If you are looking for a summer read that is both light and somewhat enlightening, you can enter to win a copy of On the Outside Looking Indian by leaving a comment (U.S. and Canadian addresses only). We'll announce the winner in our giveaway column on Wednesday, July 4.> The giveaway is closed.
Whether it's funny or intense, Jennifer Donovan enjoys reading books set in India or featuring Indian American people. She blogs at Snapshot about her very WASPy life.
Don't miss a thing: Check out our current giveaways. Subscribe to our feed or video reviews on YouTube. Follow us @5M4B on Twitter or on Facebook.
Similar Books You Might Enjoy