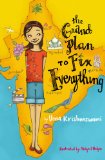 No one understands the melting pot more than this generation of kids. They are going to school side by side with kids who are of Indian, Mexican, Chinese descent — and yet also 100% American.
The Grand Plan to Fix Everything shows us a girl who is just like that. Didi and Maddie, 11, are best friends. They both love Bollywood movies starring Dolly Singh. Just like Dolly, they love everything green and silver and sparkly. But when Didi's mom comes home one day and announces that in just a few months they will be moving to India for 2 years, things change. Didi likes visiting family there, but to live there for a couple of years, leaving behind her summer plans and everything she knows is not a welcome plan.
The special bond of tween best friends is captured well here by Uma Krishnaswami. Maddie and Didi spend countless hours together, understand each other completely, and hatch crazy plans together, like figuring out exactly how Didi is going to meet Dolly Singh.
It's somewhat unrealistic realistic fiction, which I'm discovering is one of my favorite things about children's novels. When Didi moves to a small town in the mountains of India, it so happens that Dolly Singh has run away to hide there after some tragedy that has the Bollywood fan magazines guessing. Not only does she meet her, but she does indeed manage to fix everything — not just for Dolly, but for a slew of supporting characters. Not necessarily something that the average 11-year-old girl could expect to happen, but fun to read about nonetheless.
I love reading fiction written by and set in South Asian countries (for adults), and have been pleased to find several books by/about this same group written for the 8 – 12 year old set. The fact that Didi straddles both cultures makes her story completely accessible. The Indian setting — language, foods, and gestures (shaking head yes instead of nodding) — give the book an exotic mysterious feel that is sure to appeal to kids who enjoy traveling or other cultures, but The Grand Plan to Fix Everything will be enjoyed by any girl who ever had a best friend or a celebrity obsession as well.
Jennifer Donovan's blog Snapshot is more likely to be about best friends than celebrity obsessions or foreign travel.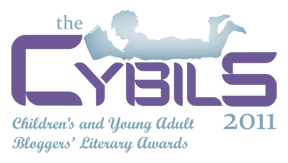 This book is a Cybils nominee in the middle grade fiction category, for which Jennifer is proud to be a round I panelist. You can still nominate your favorite book that was published between October 16, 2010 – October 15 2011. Just look in the sidebar at all the great categories. If your favorite book hasn't been nominated, then go for it! Every person can nominate one book in each category.