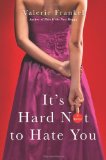 Valerie Frankel has had much to hate about life. She was bullied and teased as a chubby Jewish teenager, and was in some terrible relationships. She's also had her fair share of annoying neighbours who are too stuck on themselves to acknowledge her greeting, or "friends" who say things like "I was at your husband's funeral and I was so hurt that you didn't even hug me." (Her first husband died of cancer at 34) Now, in her mid-40s with a great husband and 2 daughters, she faces both a health crisis and a career crisis in the same year. "Let out the hate," her doctor advises her. And she does in her memoir It's Hard Not to Hate You
, in an amusing and relatable way that will have you laughing and nodding your head at the same time.
Frankel's style is down-to-earth and she doesn't mince words. I love her attempts at self-improvement, such as when a marriage counselor suggests that instead of yelling at her husband, she ask him questions, Jeopardy-style. "What is 'You can be such a prick sometimes?'" she says. Before she knows it, she and her husband are laughing together, which is something they are both good at. When she tries to be calm and zen-like while dealing with an unexpectedly long layover, it doesn't work—until she sees the humor of her situation and begins looking for other women on the verge of losing it, a game of "Where's Wacko?" she plays with her kids. Another time, she tries to go an entire week without complaining at all. It's a failure—she alienates friends, who were hoping for a nice long juicy chat, and she annoys her family. And she realizes that when the truly terrible things of life happen, like the year of her first husband's illness and death, she didn't complain at all, and instead focused on the good in life. But there's something freeing about being melodramatic about small problems which mocks and minimizes them.
As Frankel works through her various "hated" things—other people's bratty kids, her jealousy when other people effortlessly sail up the New York Times' bestseller list, annoying habits of her husband—she discovers that expressing negative emotions can have a positive effect. She finds freedom in not trying to be perfect, in admitting when she is hurt by another's actions. In learning not to avoid negative emotions, she finds a depth and richness to life. Although it's a funny memoir about Frankel's life and specifically some horrible people she's known, it sneaks some life lessons in, some tidbits of valuable wisdom.
Best of all are the study questions. I have long wondered who, if anyone, answers those annoying essay questions supposedly for book clubs at the end of many books, obviously written by frustrated English graduate students who thinks we all want to natter on for hours about metaphor and symbolism, as if we didn't get enough of that in college. But Frankel's "subversive" reading questions are perfect. Sample for your enjoyment: "Have you ever felt out of emotional control? Do you wear a "poker face?" Does it look like Lady Gaga?"
It's Hard Not to Hate You
isn't for everyone, but if you like wry humor you'll enjoy this look at a healthy way to deal with all that life hands you.
We have a copy to give away to one of you (U.S. and Canadian shipping addresses eligible). Just leave a comment here if you'd like to win. We'll announce the winner on October 19. This giveaway is now closed.
Don't miss a thing: Check out our current giveaways. Subscribe to our feed or video reviews on YouTube. Follow us @5M4B on Twitter or on Facebook.
Elizabeth feels she should admit that she has already pretty much embraced her Inner Hater, especially when it comes to other drivers. And red lights. She is working to achieve patience at her blog Planet Nomad.