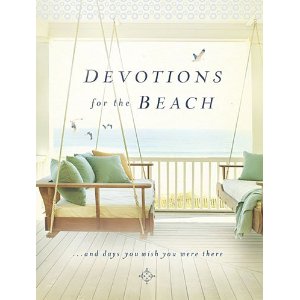 My daughter just returned from her high school church youth Beach Retreat. Each morning, the teens spread out on the beach with their devotional material and their Bibles, and it's always a highlight of the trip.
Many of us agree that a beautiful setting — be that the beach or a beautiful backyard — can give us a special reverence and focus on God. The serenity of the beach is a particular draw to some. Devotions for the Beach and Days You Wish You Were There by Thomas Nelson Publisher is a devotional book that will definitely draw in beach-lovers.
The title is perfect as far as describing the purpose and benefit of the book. Whether it's a book you buy for your beach house, for a special beach vacation, or to remember and extend that peaceful beachy feeling.
The devotionals deal with water, wind, fish — topics that will remind the reader of the beach. Line drawings and illustrations reinforce the concept and make it a great gift idea for a fellow beach lover, or perhaps a host (if you're lucky enough to have a beach-house owner friend who is generous enough to invite you for a stay!).
Where do you feel closest to God? Leave a comment — I'd love to know.
Check out other bookish gift ideas that might make a host smile.
Jennifer Donovan loves vacations, be they laid-back beach affairs, or city trips filled with sights and sounds. She blogs at Snapshot about travel, food, family and more.