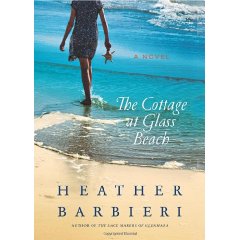 From the publisher: Married to the youngest attorney general in Massachusetts state history, Nora Cunningham is a picture-perfect political wife and a doting mother. But her carefully constructed life falls to pieces when she, along with the rest of the world, learns of the infidelity of her husband, Malcolm. Humiliated and hounded by the press, Nora packs up her daughters—Annie, seven; and Ella, twelve—and takes refuge on Burke's Island, a craggy spit of land off the coast of Maine. Settled by Irish immigrants, the island is a place where superstition and magic are carried on the ocean winds, and wishes and dreams wash ashore with the changing tides.
Nora spent her first five years on the island but has not been back to the remote community for decades—not since that long ago summer when her mother disappeared at sea.
I requested The Cottage at Glass Beach because of the author. I had not ever read Heather Barbieri's The Lace Makers of Glenmara, but it has been on my master to-be-read list, because I had always heard good things about it (and it's available as an ebook at this writing for under $2, so now it's loaded up on my Kindle ready to go).
Even though I'm not always a fan of reading about scorned wives, I do love books with a strong setting, which it seemed this one would have, as well as family focus, and self-discovery. The "scorned wife" part was the precipice to her moving her girls to her old family cottage for the summer, and it obviously has affected her view of herself and her circumstances, but we really don't know anything about Nora Cunningham as the "perfect political wife" as the first paragraph of the review blurb on amazon states. The novel opens opens with her arriving at the cottage.
The entire description as written would not necessarily have drawn me to the book, so I'm glad I picked it up based on the success of her previous work. To me the strength of this novel is in the family relationships — reconnecting with her aunt Maire, finally confronting her thoughts on her mother's abandonment/disappearance, and the ups and downs of her relationship with her daughters — open and trusting 7-year-old Annie and suspicious and sullen 12-year-old Ella.
There are elements of magical realism contained that keep the reader guessing (and which are never fully explained), but to me, reading is magic, so I never blink twice when those elements are present in a novel.

This is a lovely summer read, and I'm happy to say that we have one to pass on to one of you. Please leave a comment if you'd like to win. We'll announce the winner in our giveaway column on June 13.The giveaway is closed.
We have a TON of giveaways this summer! Enter our current giveaways. Subscribe to our feed so you won't miss what's coming. Follow us @5M4B on Twitter or on Facebook.
Jennifer Donovan blogs at Snapshot about her family, which has recently expanded to include caring for her grandmother who lives in a nearby assisted living home.