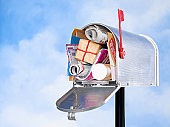 It's Monday! What did you get in your mailbox this week? (Okay, technically it's Sunday, but Mailbox Sunday doesn't have that rhythm does it?). The Mailbox Monday carnival is hosted by Bermuda Onion for the month of September.
This week check out our Fall Festival of Children's Books (and giveaways).
JENNIFER
Nonfiction:
Audiobook (the only fiction title that made it into my house):
By Nightfall by Michael Cunningham
Some unsolicited and delightful children's books:

DAWN
A week with a few books for me and a few for the kids = a fabulous week!
LAUREN

I have been in a fiction funk lately, which is very rare for me. I am very excited that Chosen
arrived this week. It looks like a fascinating and troubling tale about open adoption. I can't wait to start it.
Two children's books arrived in my mailbox this week: The Boss Baby
and Presenting . . . Tallulah
. Tori Spelling is the author of the Tallulah book. While I think the celebrity factor is meant to entice readers, it actually makes me hesitate. I will reserve judgment, however, until after I have read the book!
NANCY
I finally joined Audible this week. A free trial with 2 free books was too good to pass up. After some tinkering yesterday I am now able to play the books on my 'berry and I'm a happy girl.
It's been an electronic mailbox type of week for me, because I also downloaded some Kindle books, both free.
While you're here we invite you to check out our current giveaways, subscribe to our feed, and/or follow us @5M4B on Twitter.