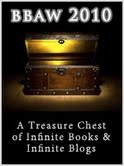 If you don't know it, this week is Book Blogger Appreciation Week. Check out the great guest posts over there from authors singing the praises of book bloggers, the Book Blogger Awards, and more.
Each day this week there's an opportunity for book bloggers to post on a certain topic, and today it is to share our "forgotten treasures." I love this idea. There are some books who get lots of attention because of all the hype, but we well-read book bloggers have favorite books that don't seem to be as well-known as they should be.
Here are ours:
JENNIFER
The book that I think is an absolute treasure, and is absolutely forgotten is Mandy by Julie Andrews (linked to my review). I've written about it several times, and each time I do, there's someone who hasn't heard of it. I truly love this book. It was one of my absolute favorites when I was growing up, and my daughter loved it too. I met Julie Andrews this summer, and while most people were imaging the Maria von Trapp or Mary Poppins, I was thrilled to meet an author who truly inspired me.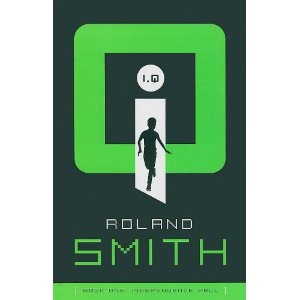 I don't know if a new series can be forgotten, but one I'd love to see in more tween's and teen's hands is Roland Smith's, I,Q (linked to my review).
I also think that The Mother-Daughter Bookclub novels by Heather Vogel Frederick are fantastic, and I'm disappointed that more libraries don't have them — at least libraries around here (although I got them into our Intermediate school last year and mentioned them to our YA librarian here in town). Since my library is very well-stocked, I'm assuming they are not getting the attention that they should be getting elsewhere either. Read these books! If you're a mom, read them, either with your tween or just on your own. If you are a woman who remembers what it was like to be 13, read them, especially if you like classics.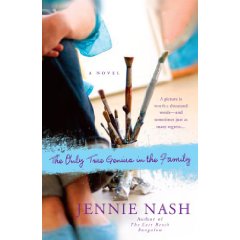 As for women's fiction, I absolutely adore Jennie Nash. My friend called me from the bookstore and asked what book she should get. I knew that she'd love the Only True Genius in the Family (linked to my review), but the bookstore didn't have it. She did purchase Nash's newer book The Threadbare Heart (linked to my review), which I think she liked, but the other one would have been a perfect fit for that particular friend.
NANCY
I discovered Tawni O'Dell recently, and while her second book was an Oprah pick once upon a time, her books based in the coal mining section of Pennsylvania seem to have been overlooked. The title and cover of her latest, Fragile Beasts, were what initially caused me to pick the book up off the Here & Now shelf at the library, but the story description was what sold me. I thoroughly enjoyed it and look forward to reading O'Dell's other novels.
I have managed not to get sucked into Twilight mania, I do enjoy vampire novels but I'm not a fan of the whole teen angst thing. So I want to make sure that others who feel the same way don't ignore The Host, also by Stephenie Meyer. It's also a YA book in the fantasy realm, but that's where the similarities to Twilight end.
Finally, most people who aren't big Jimmy Buffett fans (aka Parrotheads) are probably not aware that in addition to writing songs, he has also written several books, ranging from children's books written with his daughter to fiction, both novels and short stories, to non-fiction, and one or two that you're never quite sure if the stories are true or not. I will admit his books are not exactly literary works of art but they're fun and easy to read, and often have song titles or lyrics included in the stories. They always have sailing, islands and boat drinks and are definitely escapist fun.
DAWN
I'll admit it, I am absolutely a mainstream, popular fiction kind of reader. As I looked back on the list of books that I've read since the beginning of 2008 (when I first started keeping track like the dork that I am), I realized that the VAST majority of my fiction choices have certainly gotten a lot of press and could hardly be counted among "forgotten treasures." So then I turned to the section of the bookshelf devoted to educational and parenting nonfiction selections, and three books jumped out at me, begging to be a part of this post.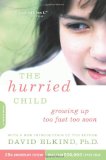 I was first introduced to the works of child psychologist and author David Elkind when I was studying early childhood education in college, and I was immediately in love. When I read his books, I went crazy with my highlighter, so that by the last page, I probably could have just painted every page bright yellow and been done with it. Perhaps his most influential book was The Hurried Child, first published in 1981, is my favorite of my entire collection. My "revised edition" from 1988 may not be the most recent parenting/education book on my shelf, but every word of it rings true, maybe even more so today. Our American tendency to push children toward the ever-increasing next step, or overscheduling them until they need their own blackberries has only gotten worse in the last two decades. As a parent, I often feel the pull to "hurry" my own children, as well as the effects of this attitude that is way too prevalent in our public schools system. The Hurried Child- 25th Anniversary Edition is only four years old, and I think it should find a place on my shelf as soon as possible.
Two more recently released books that sit beside David Elkind's work on my shelf are by Judith Warner. In Perfect Madness: Motherhood in the Age of Anxiety, Warner talks with groups of moms to try to find the answer to why today's moms are seemingly "so stressed out." The responses she finds resonated with me beyond measure. When I first read this when it came out in 2006, my oldest was a kindergartner, I was working full-time and was in my final trimester of my second pregnancy. I could relate then, and probably even more so now, to this amazing book. Earlier this year, Warner released We've Got Issues: Children and Parents in the Age of Medication, and I was reminded of how much I respected her research and writing techniques. This book hit close to home once again, and my review from earlier this year says it all.
LAUREN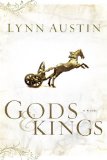 I thought I would add to the discussion by mentioning a Christian fiction series that is one of my all-time favorites. We have featured many of Lynn Austin's titles on this site, but her Chronicles of the Kings Series
is older and deserves attention. This series of five books begins with the reign of King Ahaz, focuses on the reign of Hezekiah, and closes with the reign of Manasseh. While that might not sound too intriguing, these books are wonderful. Once I started, I couldn't put them down. Lynn Austin stays true to the Biblical text and carefully adds details based on historical research. After reading all five of the books, I felt I had a much better understanding of the Biblical narratives I have studied since childhood. If you are hesitant about Christian fiction (or fiction based on the Bible), I highly recommend that you give these books a chance. They are truly a treasure!
Since it is a Newbery Medal winner, I don't know if From the Mixed-up Files of Mrs. Basil E. Frankweiler
classifies as a forgotten treasure, but since it was published more than forty years ago, I would just like to remind the world that this book is a gem. The story of Claudia and Jamie Kincaid hiding out in the Metropolitan Museum of Art is one of my all-time favorite novels (adult and children's combined). If you haven't read it, be sure to pick up a copy soon. It is truly a delight. I have never looked at public restrooms and fountains the same since reading it in fourth grade!
Thanks for visiting!
Subscribe to our feed. Follow us @5M4B on Twitter. Check out our current giveaways.