Just days before I arrived at the Despicable Me movie press junket, where I expected to meet and interview Miranda Cosgrove, Steve Carell, Jason Segel, and Chris Melendrani, the producer (linked to my interviews), I found out that Julie Andrews was also going to be there.
Julie Andrews. Everyone has some sort of love for Julie Andrews, a true screen legend. People immediately think of Mary Poppins, or Maria von Trapp, or possibly even the Queen of Genovia.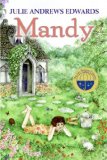 But what I thought when I found out I was going to meet her is "I'm going to get to meet the author of one of my all-time favorite books from my childhood, Mandy, Julie Andrews" (linked to my review).
I will take the chance to implore you once again to read this book and to share it with your daughters. Each time I mention it, someone says, "I've never heard of that book," but this is the book that I read over and over again, and I recalled details of the stories even 20 years later when I shared it with Amanda.
So of course, I told Ms. Julie Andrews that in person. I told her that I loved the book, and that it as the book I wanted most to share with my own daughter, and I was happy that she loved it too.
She was so personable, and really connected with us individually as we asked her questions. She seemed genuinely glad that the book had made such an impact on me and that my daughter loved it as well, as she crooned, "Oh. Thank you."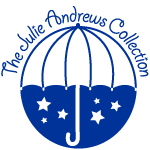 That question, about a book published in 1971 but still in print, wasn't so off the wall. It's a part of the Julie Andrews Collection, which she and her daughter Emma Walton Hamilton write for and manage, with the goal of making available "quality books for young readers of all ages that nurture the imagination and celebrate a sense of wonder."
I asked her what it was about children that drew her to them as an audience, and she said,
I fell into it quite by accident, and found that it was something I really loved to do. Publishing books for children is a whole world unto itself. You go into a publishing house and it's all very appropriate and sober. The children's publishing division is full of writers and fabulous art, cheerful. Something about it just resonates with me.

I read a lot to my kids as children, and when I was writing, I read a lot to them. They were very patient. You can tell instantly if it doesn't work.
As for a book that she highly recommends, and that first sparked her own imagination as a child, it's a part of her collection, but seems to be out of print: The Little Grey Men : A Story for the Young in Heart, by BB.
Loralee was another fan of her books and asked her, "You're a brilliant writer. Have you ever done any writing for film? Have you ever thought of marrying the two?"
"Yes, I have thought of marrying them. From your lips to someone's ears. There's a book I wrote many years ago, The Last of the Really Great Whangdoodles. I'd love to see it go to film. I sort of wrote it with that in mind. I'd love to see it as a musical. When I write, I either write musically or scenically."
Her latest role plays against type. She plays Gru's mom in the Despicable Me movie, and after seeing some snippets of his childhood and his villainous mother, we can better understand why he is so despicable.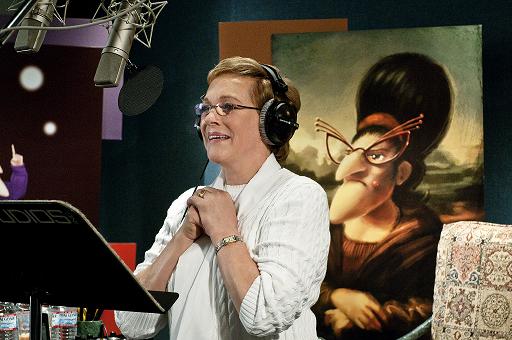 "It was great fun. Have you see I saw this drawing, this character. I thought, 'What can I do? How can I contribute to that lady?' It was such an emancipating feeling to just go for it."
Read all of my Despicable Me posts, including a brand new post at 5 Minutes for Mom today, Steve Carell, Nice Guy and Super Dad and my post at Snapshot about Jason Segel..
Previous posts:
Interviews with
Despicable Me movie review
Despicable Me movie loves Social Media
Disclosure: Universal pictures paid my travel expenses to attend the press junket in Los Angeles, but my thoughts and opinions are my own.