These aren't really just for boys. Girls can read them. Girls might want to read them. But these are two new early readers that appealed to the 6-year-old boy in my household.
In my recent Children's Classics post, I mentioned that Kyle was getting more comfortable with the idea of reading independently, and I mentioned a certain series that he had enjoyed, because it had short chapters, short sentences, and pictures on every page. I then asked for recommendations on other similar series he might enjoy.
Then I remembered these review titles that I had sitting in my house — one of which he had already read and enjoyed. What was I thinking?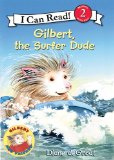 In a way the whole "I Can Read!" label made me overlook them as books, because I was thinking of them more as "readers." The leveled system is awesome. These are both level 2 "high-interest stories for developing readers," and Kyle and I agree. There is an interesting plot, complex compound words (they are marked "reading with help," assuming I guess that they would get help on more complicated words, but Kyle does okay reading them on his own), and bright full-color pictures. All of those features make them an absolutely perfect bridge to longer chapter books and series.
The other thing I love about these paperback "I Can Read!" books is their price — $3.99. Though we use our library a lot, I also think it's important to have books around that they might choose to read over and over again. At this price, they are a perfect little treat (and what's more, many of them are in amazon's 4 for 3 promotion, so you could actually get 4 books for $16).
Gilbert, the Surfer Dude is a lovable opossom. When he goes to the beach with his family, he forgets his swim trunks. They find some that are a bit too big, but he insists on buying them, because they make him feel like a real "surfer dude." Trouble ensues, but Gilbert and his family still have fun.
Written and illustrated by Diane Degroat, this is a beautiful book with a funny story that is sure to appeal to early readers.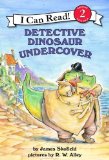 Detective Dinosaur Undercover is written by James Skofield and illustrated by R. W. Alley, Detective Dinosaur has appeared in at least two other books, which makes it even more of a springboard into chapter books, since it's a series that gives them a platform to jump into other books with the same characters!

At the ripe old age of 6, Kyle is quick to point out things that are for "little kids." He's feels that way about all those awesome learning shows on PBS and Nick Jr. that I love, so he hasn't been very interested in reading the Sid the Science Kid I Can Read! books. It's a bit surprising to me, because he likes nonfiction and science, and so these are a good combination of a story and hard facts. I like the fact that Sid is willing to go in-loco-parentis and teach our kids some things that they might not care to hear from Mom and Dad, such as Why Can't I Have Cake for Dinner?. This is a "Let's Read and Find Out Science" book, stage 1, targeted to preschoolers and kindergartners, and teaches solid scientific facts (in this case, about nutrition). This is a read-aloud book, not a book for early readers.
The Trouble with Germs is a level 1 I Can Read! book, featuring "simple sentences for eager new readers."
The pictures inside and on the cover are from the TV show, so if your kid is a fan, he or she would definitely like the books. Unfortunately, the TV tie-in worked against them in our household, because though the material interested him, he thought he was a little too big for Sid the Science Kid.
Jennifer Donovan is so happy "I Can Read," and she has the time and interest to do so, and hopes that her kids will keep up their interest in reading as well. She blogs about other hopes and dreams she has at Snapshot.