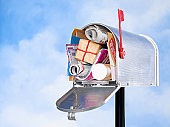 This month, Mailbox Monday moves over to Bermuda Onion's blog. She's one of the most active commenters in the book blogosphere, so if you haven't joined in this fun weekly carnival yet, go check it out over at her place.
JENNIFER
I always love any surprise package as well as receiving the books I request for review, but I am super-excited about these first two titles:
DAWN
Since I left the comforts of home, including an internet connection and electricity, in exchange for a lovely family camping trip last week, I failed to get in my mailbox contents to last week's post. Consider this a Mailbox Monday times two for me.
While you're here we invite you to check out our current giveaways, subscribe to our feed, and/or follow us @5M4B on Twitter.