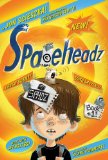 If starting fifth grade in a new school wasn't bad enough for Michael K., things really go downhill when the two oddballs in the class begin to stick to him like glue. They're carrying around the class hamster, and product slogans and commercial tag-lines keep popping out of their mouths at random times. Mrs. Halley, their teacher, believes them to already be buddies, so now the whole class must think the same thing. But what's going on with these strange kids, and why did they tell him that they are aliens?? So begins Jon Sciezska's new middle-grade novel Spaceheadz, the first in a series that is sure to delight Sciezska devotees as well as those just now being introduced to his unique style of books.
Too funny. That's all I could think as I read this book, one that was swiped from my shelf by my ten year old son before even one speck of dust had a chance to settle on it. Just start with the cover. Shane Prigmore's cartoonish illustration style immediately brought a smile to my face, and the cover's unmistakable resemblance to an as-seen-on-tv product print ad is soon given context in the story of the three aliens who are on a mission to find 3.14 million humans (plus one more, just for the sake of giggles it seems) to pledge to being Spaceheadz, or SPHDZ for short. These aliens have gleaned everything they believe they need to know from the television programming and advertisements that have been beamed from Earth, and they are determined to complete their mission in order to avoid Earth being turned off.
The premise alone is quite clever, but add in one bumbling Anti-Alien Agent on their tracks and a whole lot of familiar slogans and jingles shouted out at inopportune times, and the humor factor is out of this world. (Insert groan here.) Jon Scieszka will hopefully be forever known as the creator of books like no others, with this latest one included. Having heard Scieszka speak at the glorious National Book Festival a few years back, I can definitely attest to the assertion that this man has a sense of humor that just oozes out of him, and his work is universally appealing to fun-loving young readers, with my own son at the front of the pack.
With Internet tie-ins that add to the hilarity, Spaceheadz seems to be following in the footsteps of other notable books (i.e. The 39 Clues) that understand the possibilities that can arise from incorporating technology into the worlds of books. Readers are encouraged to visit sphdz.com to sign up toward the 3.14 million (plus one, don't forget) pledges to be SPHDZ, and a few other of the websites mentioned in the book are in fact out there in cyberspace. (For the record, I'm SPHDZ #7389, "Chewier Dill Pickle"- I'm official.)
Book trailer videos are out there in abundance, and while I don't make it a habit of including them in my reviews, I'm making an exception this time. In less than two minutes, you can get a perfect feel for the humorous tone of the book and share in a few laughs.
SPHDZ! The laughs are long-lasting and ultra-strong, and the entertainment just can't be beat. Jon Scieszka's Spaceheadz has recruited two readers in this household as giant fans.
We're happy to be a part of the 7-stop blog tour for Spaceheadz over on 5 Minutes for Mom today. Check it out to enter the giveaway for $50 to buy books, as well as to read Jon Scieszka himself talk about some of his favorite back to school reads. My bet is there is plenty of humor on his list!
Dawn blogs about her wacky kids, who she has often compared to creatures from a different planet, on her blog, my thoughts exactly.