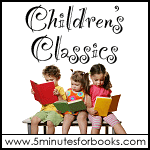 Welcome back to the Children's Classics monthly post, where our focus for the rest of 2010 is on award winning books that dazzle our kids with amazing illustrations, beautifully crafted stories and meaningful messages. Last month, I focused on several of the Caldecott Medal winning picture books that we're fortunate enough to have in our personal library.

This month, I turned to the John Newbery Medal, and I was thrilled to see my son's shelves filled with many of these gold-stamped books! While he's been reading some of them this summer, I tackled one specific selection on my own.

Currently checked out from the library is A Single Shard by Linda Sue Park (2002 Newbery Medal winner), and although it hasn't been read yet, I'm confident that it will get my son thinking, as Park's works are consistently thought-provoking and complex.

Also among his current library book selections is Christopher Paul Curtis' Bud, Not Buddy (2000 Newbery Medal winner), which after just a few chapters he told me was "a really serious story." He reported that he enjoyed reading the book, but that it did make him feel sad for the main character. Although he's a voracious reader, he doesn't talk much about the books that he's read, so I was pleased to get even that short assessment out of him.

Jerry Spinelli's Maniac Magee (1991 Newbery Medal winner) is one that my son did briefly describe to me, but his synopsis confused me a bit so I decided to look it up on my own. This folk tale about an energetic and excitable kid sounds fabulous, and the larger issues addressed here include racism and inclusion.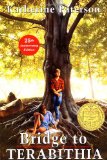 While my son has had his nose buried in those award winners, I grabbed one off his personal shelf that I hadn't read before but had actually already viewed the movie version. A couple of years ago, he read Bridge to Terabithia by Katherine Paterson (1978 Newbery Medal winner), and I knew absolutely nothing about the story. I remember having a conversation with a friend who was more than a bit shocked when I mentioned this as his latest read (he was around seven at the time). "Do you know what happens in that book?" was the question she incredulously asked me, head cocked to the side. A year or so later, we watched the Bridge to Terabithia movie on DVD, and I realized what the fuss was all about. This is no lighthearted story.
Even though the book is more than thirty years old, I'll stick to our 'no spoilers' routine and not give away any of the details. Suffice it to say that this story is steeped in emotion, and when reading I found myself responding to the tension and depth physically- yup, I bit my nails off toward the ending, even though I knew what was coming. Katherine Paterson writes succinctly and with a straightforward manner, and the reader is given a clear picture of the main character Jess Aarons' life, emotions and struggles. The friendship, caring and authentic, between Jess and Leslie is heartwarming, and their playful experiences create an image of a childhood filled with imagination and creativity. Bridge to Terabithia is just a beautiful, albeit heartbreaking story for older children, tackling some heavy issues of family, love and loss.
On a side note, earlier this year Katherine Paterson was named the National Ambassador for Young People's Literature by the Librarian of Congress, a role she will play for two years, choosing "Read for Your Life" as her theme. With her impressive contributions to children's literature over the years, this appointment is well deserved.
All this talk about award winning children's literature is just firing me up! All of three of my kids are seemingly more aware of the medal stickers on the books we choose, and my son is using this awareness as guidance in his selection of reading material on library visits. How about you and yours? What award winners have you enjoyed this month? Please link up with us and share your stories!
Check out our current giveaways. Subscribe to our feed. Follow us @5M4B on Twitter.
Dawn hasn't received many awards in her day (except for the coveted "Meanest Mommy in the World" title, more often than she'd like), but she is kind of a big deal on her blog, my thoughts exactly.