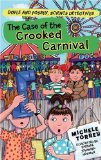 As a child, I can't say that I was ever super excited about science. I don't remember much from elementary school science classes, and I wasn't the kind of kid who set up experiments on my own just for fun. I wonder if that would have been different if Drake Doyle and Nell Fossey were my literary pals when I was nine. As it stands, I'm just now being introduced to them in the newest selection in their Doyle and Fossey, Science Detectives series,The Case of the Crooked Carnival, written by Michele Torrey.
This short middle grade book features four mysteries that Doyle and Fossey, the smartest science detectives in the whole fifth grade and best friends to boot, must solve relying on the Scientific Method and the tools of the trade. Does Edgar Glum really have ghosts and ghouls in his spooky old house? How can an alien invasion, of the noxious weed variety, be stopped? What's up with the shakiness of the new bridge? And what is behind Shady Jim's ability to win his own carnival game when everyone else keeps losing? These four cases are handled expertly by Doyle and Fossey, and in the process, young readers are introduced to concepts such as resonance, amplification, magnetism and ecosystems in a fun and creative manner.
Torrey writes with a tongue-in-cheek sense of humor, full of puns and side jokes that appealed to my own nine year old, who read this book in one short sitting. As a parent, I appreciated that the author could infuse educational information in such a fun manner, and the "Activities and Experiments for Super-Scientists" section at the end provides real-world examples for extended learning based on the stories in the book. A perfect resource for Science Fair time!
The Case of the Crooked Carnival makes for such fun "mystery" reading that perhaps children won't even pick up on the fact that they're actually learning something (which is just right for summer reading!), and watch for another new Doyle and Fossey selection coming in September.
Dawn has become skilled in using her own detective skills to figure out such daily mysteries as "Who spilled the milk?" and "Where did all that mud come from?" The joys of such a life are often shared on her blog, my thoughts exactly.