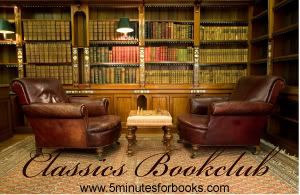 Attention classic book lovers everywhere! I have a news flash for you! Get this: It is now hip to be square.
Yes, indeed, it's true. Thanks to the 100 Classic Books "game" for Nintendo DSiXL, we who love all things classic can not only be hip but I have to tell you: I've also been the envy of at least two young gamers in my circle of acquaintance (who also happen to live with me). I'll freely confess that I'm pretty much old school, like most fans of classic literature, but I really enjoyed the convenience of having so many great novels at the tip of the fingers (or my stylus, as the case may be).
Since I was branching out and reading a book in an electronic format, I decided to also choose something a little different for my reading selection for this quarter's Classics Book Club. Yes, dear Jane (Austen) has a couple of spots in the 100 (as rightly she should), and so do other favorite authors of mine like Dumas and Dickens but I chose instead a fairy tale, The Princess and the Goblin by George MacDonald.
The Princess and the Goblin is the delightful story of the young, precocious princess Irene and the courageous, quick-witted miner Curdie. All of the elements that make fairy tales so much fun are present: evil goblins, dark dungeons, a sinister plan, a kindly king and a mysterious grandmother. There are spells and mysteries, a beautiful ring, and a nearly invisible thread that leads to home. MacDonald writes in an easy, conversational style, almost as if the reader were enjoying story time with a doting grandfather. The Princess and the Goblin is great fun and a good story, as all good fairy tales should be. It is a classic that deserves to be read by both young and old(er) lovers of literature.
I thoroughly enjoyed The Princess and the Goblin as well as the handiness of the Nintendo DSi XL. I mean, I could finish The Princess and the Goblin and, without even leaving my chair, immediately turn (tap) to The Princess and Curdie, the next installment in MacDonald's series. Or to a Sherlock Holmes novel. Or to my beloved Pride and Prejudice. Or to one of the other 100 Classic Books, some that I've been eager to read, some that are new to me. It's fun to see old friends in an electronic format; it's also fun to discover new titles and genres.
Hip to be square, you better believe it!
Did you read any classics this quarter, electronically or otherwise? Link up your reviews and let us know!
Check out our current giveaways. Subscribe to our feed. Follow us @5M4B on Twitter.
Wife and mother, Bible teacher and blogger, Lisa loves Jesus, coffee, dark chocolate and, of course, books. Read more of her reflections at Lisa writes…. Lisa would like to thank Nintendo for providing the DSiXL and the 100 Classic Books software for review purposes.