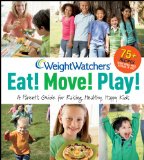 With childhood obesity on the rise and in the news on a daily basis, along side nonstop advertisements for junk food and a growing sedentary lifestyle for families, there's no denying the fact that more parents are concerned about their children's health than ever before. In response to the growing interest in these topics, the well established group Weight Watchers has recently released Eat! Move! Play! A Parent's Guide for Raising Healthy, Happy Kids.
Part lifestyle advice, part workbook, and part recipe guide, Eat! Move! Play! is a fabulous comprehensive guide for families trying to be conscious of how they stay healthy in their eating and exercise habits. This book includes information and thought-provoking sections on the contemporary challenges to healthy living. Solid advice and points to consider when making personal decisions are respectfully conveyed, and there are even pages that invite readers to jot down their own questions, ideas, goals and plans. I personally found the emphasis on the importance of talking appropriately about our own bodies and self-images to be meaningful, especially as a mother who in no way resembles a runway model but has three sets of ears always tuned in to any negative word I might say about my body. (Especially when one set of those ears belongs to a little girl– gender identification norms tend to demonstrate that girls incorporate their mother's personal labels and feelings about body image into their developing ideas about their own bodies.)
The overall focus of the advice provided in this book is geared toward the family as a whole. The 'do as I say, not as I do' model is definitely not in play here, and responsibility for playing the part of role model in action and personal decisions about eating and exercise is placed squarely on the parents' shoulders. Thankfully though, many high-quality and specific examples for healthy living choices are provided from ways to get your whole family active together to a wide variety of recipes to try out.
In fact, almost half of the book consists of easy to prepare, healthy and delicious looking recipes (even to this VERY picky eater, who realizes that she needs to push her own eating boundaries a little bit). Utilizing a wide variety of whole grains, proteins, vegetables and fruits, the recipes span a whole day's meal and snack categories, and attention is given to making foods appealing to family members of all ages.
I'm happy to recommend Weight Watchers' Eat! Move! Play! A Parent's Guide for Raising Healthy, Happy Kids as a useful and informative resource for anyone looking to improve their entire family's health and lifestyle.
When Dawn's not trying to convince her children to eat a vegetable other than a baby carrot, she can be found blogging away at my thoughts exactly.