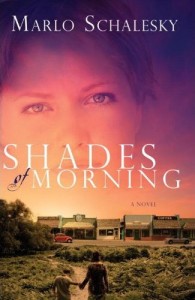 I think this is different than any other piece of Christian fiction that I've ever read. Not that I read this genre excessively, mind you. But it is different.
Shades of Morning
, by Marlo Schalesky is about a lady named Marnie who is running away from a past. As the book unfolds, we learn more about her life and an old flame of hers. (So far sounds familiar, right?) The difference is in the fact that her sister has passed away suddenly, leaving Marnie without the opportunity to say goodbye. Her sister has left Mamie a priceless gift – that of a son to take care of.
Unfortunately this is one of those books that I don't feel like I can review very well because it involves a great mystery that is easily spoiled by dancing through the details of the book. Mamie has a lot of regrets and many details of her past unfold in such a way that is delicate to a review.
I was very surprised by the author's conclusion of this story. I thought it was quite unusual. However, due to the conclusion I found myself frequently confused by where she was going (either because of the way the facts were being unfolded or the stream of conversations that were taking place between characters -both significant and otherwise.) It's a tricky book. Definitely not my normal fare. Honestly – I can't claim to have loved it.
That said, I think it's probably very much up the alley of a regular reader of Christian fiction. The characters are exactly that. I liked Marnie quite a bit in the "present day" portion of the story where she was aged and more mature. It didn't hurt that she owned a bookstore/coffee shop. (Now there's a business I could love to be in!) There is a love story involved and the primary love interest is an attorney. Being that I went to law school, I chuckled my way through some descriptions of his dealings with certain clients. There is healing and redemption elements at play and the storyline wraps up nicely, albeit with a fascinating twist in the end.
If you are looking for something a little bit more unusual to read in this particular genre, Shades of Morning
may be just the ticket for you this summer.
Thanks, WaterBrook Multnomah, for allowing me the opportunity to preview this novel.
Carrie is a confirmed book-a-holic. She enjoys blogging about books on her own book blog, Reading to Know.