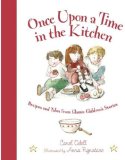 Over the last decade or so, I've amassed a sizable collection of children's books, for which I'm truly grateful. While most tend to be the standard picture book fare, a small part of the collection is made up of cookbooks written for use with young children. With the release of Carol Odell's book Once Upon a Time in the Kitchen: Recipes and Tales from Classic Children's Stories, I've added a unique and standout item to this part of the collection.
As the title makes evident, this book isn't merely a series of recipes for children to enjoy, but instead offers excerpts from twenty-one pieces of classic children's literature, along with a related recipe for families to make as an accompaniment to the reading. When one opts to read a little Winnie-the-Pooh, what better to snack on than a "Bear Honey and Nut Spread?" Or, if Alice's Adventures in Wonderland is your selection, why not share some of "The Queen of Hearts' Jam Tarts?"
Read my full review at 5 Minutes for Mom, and enter to win one of three copies! The giveaway will be open through July 11.
Carrie posted a review and giveaway last week (that is still open for new entries) of another fabulous Sleeping Bear Press children's book (along with a White House Cookbook). Enter
From the White House to Your House
:
Dawn's cooking skills are far surpassed by her reading skillz. (Yes, they're good enough to earn a 'z.') More wackiness can be found at her blog, my thoughts exactly.
Comments are closed to remind you to enter at 5 Minutes for Mom.