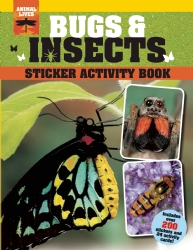 I've talked about how I don't like bugs before. I knew that having two little boys was raising the threat levels that I would be forced to deal with bugs at some point in the future. I was hopeful that my sons would never really know how much Mommy does not like bugs. But apparently I'm not very good at hiding it.
This year is The Year of the Bug in our house. My 3 1/2 has noticed them – and what's worse is that he thinks they are fascinating little creatures. (How can a creature so thoroughly disgusting hold such fascination?!) When Silver Dolphin Books announced a new Bugs and Insects Sticker Activity Book
, I figured this would be a fun "Daddy Activity" to do. The book arrived and it is chalk full of large, "beautiful" full-colored photographs. (In all honesty, the photography in this book is really nice. But looking at these creatures up close is not really my cup of tea.
The book is divided into three chapters, each containing fascinating facts about each bug and plenty of information to satisfy the young and curious. At the back of the book there are stickers galore and activity cards you can punch out, which ask trivia questions and provide additional information. The three chapters focus on the following: Butterflies, Spiders, and Bees & Wasps.
Despite my dislike of bugs – the Bugs and Insects Sticker Activity Book
really is quite awesome.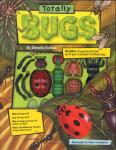 A sincerely loved and adored book/product in our home as been Totally Bugs
which is also produced by Silver Dolphin Books. This box set includes a 32-page book which teaches you about ladybugs, the black ant, the stag beetle, the greenbottle fly, and the orb weaver spider. Furthermore, it also contains 44 parts to assemble five of your own plastic bugs. These little bugs were actually my undoing. I wasn't really paying close attention to Bookworm1 when he was asking me to hold something for him. Without thinking, I held out my hand. Unbeknownst to him at that time — Mommy really doesn't like bugs! It's true. I screamed. He screamed. Then he laughed and my secret was out of the bag. (Sigh.) Then my three year old was holding up a little plastic stag beetle saying, "Mommy. It's not REAL. It's just pretend!!!"
Look, folks. I'm glad for Bookworm1 and Bookworm2 to know about bugs. But I don't really want to learn about them with them! These two books mentioned above are totally awesome and they have really drawn Bookworm1 into the world of bugs in a wonderful way. He enjoys pouring over these resources, with plastic bugs in hand. I try to stay out of the way and when he asks me questions about them I tell him "that's a Daddy thing." I redirect and try to steer clear of the bug legs that appeared on the dining room table when I was sitting down to eat lunch.
Silver Dolphin books really produce some fun tools for learning about the animal world around us and these books are no exception. Factual and engaging – I'll give these a quick thumbs up and then I'll run from the room and try to suppress my screams.
If you would like to win a copy of both of these books, and possibly join me in my happy agony, then simply leave a comment below. I'm happy to say that Silver Dolphin books have offered to share the wealth with another mother and her small children. This contest is open to U.S. Residents only.
The winner of The Immortals series by Alyson Noel on audiobook is #23 Mary BookHounds.
Carrie enjoys books, not bugs. She is grateful that she no longer lives in South Texas – where the bugs are, quite possibly, larger than most of the books on your bookshelf. She lives as much of a bug-free life as she possibly can in the wilds of Oregon. You can catch her talking about her love of books over at Reading to Know.