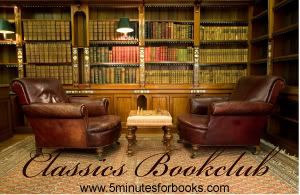 Have you started reading our December selection, A Christmas Carol, yet?
Me, either — and we are set to share this Tuesday, December 2. I know! But with getting ready for Thanksgiving, having guests the week before Thanksgiving, cooking and eating the bird, etc. I haven't had time (and the truth is, I didn't even check it out from the library). But I have good news (for myself and those of you who didn't even think you would join us): It must be a public domain work, because the entirety of this longish short story is available online. Yep — you can get started reading HERE and now.
So, please join us. The fact that I want to read this, but haven't yet, is the exact reason I love Classics Bookclub! It gives me incentive to read books that I want to read, but just haven't. To that end, I've decided to tackle Shakespeare's Hamlet in January, and in February we'll read Maya Angelou's I Know Why the Caged Bird Sings, and this is my first announcement of March's selection: Victor Hugo's Les Miserables. It's long — really long (although please try to find an abridged version, which is still long, but 500 pages instead of 1000), but it's such a wonderful story examining the nature of the law, true love, and redemption. I read it over ten years ago, and I'm going to read it again. I wanted to let you get a jump on it if you are interested, and I hope you will be. You can always find our schedule at the Join In tab on the top of our page.
So back to this month — On Tuesday at midnight I will have the post up here and the Mr. Linky ready for you to link up your own post giving your thoughts of this seasonal classic (on the following Tuesday we'll stay in the Christmas spirit with Children's Classics — Christmas edition. We'll bend the rules of "classic" a bit if there's a more modern book that is a classic to your family, and it could also be a novel that evokes Christmas).
If you'd like some questions to get you started, here are some:
Did you read it alone or aloud to your family (which is/was sort of my intention)?

How does this short work compare in your mind to Dickens' other wordier novels?

Will reading this short story affect the way you experience Christmas this year?

If this is your first time reading it, how did the iconic characters of Scrooge, Tiny Tim and the Ghosts of Christmases Past, Present and Future live up to your impressions?

If you've read it before, how was the story new this time around?