On the day before Amanda got out of school for Thanksgiving break, she had to decorate five feathers that would be stuck on her turkey. Each feather had to list one thing she was thankful for. She asked me, "Do you think it would be okay to say that I'm thankful that you have the 5 Minutes for Books site because we get a lot of really great books and stuff?"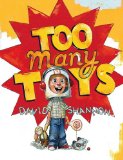 It was funny, but she's right. I too am thankful that my hobby of reading has turned into a bit of a job here and at the new site. I'd always be reading, but one of the perks is that we do get to look at so many books that we might not normally even know about.
Recently Kyle benefited from my reviewer gig. We both enjoyed Too Many Toys by David Shannon. Read my full review over at 5 Minutes for Mom today to read about how this book affected me. You can also enter to win one of three copies.
There are two other Books giveaways still active at 5 Minutes for Mom: J.K. Rowling's Beedle the Bard, and a Klutz prize pack.
Managing Editor Jennifer Donovan is a contributing editor at 5 Minutes for Mom. She blogs at Snapshot about daily life with a tween daughter and a preschool son.