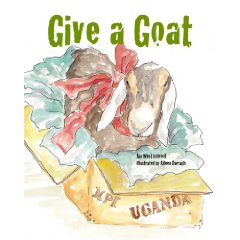 Going on that trip to the Dominican Republic with the Compassion Bloggers really did change my life. Mostly, I learned that a little bit of help goes a long way towards instilling hope, confidence, and viable dreams for one's future.
When I was approached to write about Hands of Hope, an organization that supplies goats, chickens, and good wells to towns and people in need, I knew that I wanted to help spread the word, after seeing firsthand what a huge difference some life skills or food and income can make in a community. You can read my post about Hands of Hope explaining how you can buy the cards this Christmas (or anytime) to give to people instead of gifts — so that your gift will keep on giving.
Then I received a note offering a review copy of Give a Goat, about a fifth grade classroom that pitches in together to buy a goat from Heifer International. What I like about this book is that it's right on in explaining such a benevolent concept that children (and adults) will be able to understand. The other thing that was completely on target was the inspiration that this one class provided for the other classes in the school, who ended up holding their own fundraisers for other worthy causes.
The drawings are realistic and add to the story, and a part of the book that appealed to both of my children (10 and 4) is that there is a goat somewhere on each page waiting to be discovered.
My daughter Amanda is in fifth grade, and I know that like the students in the book, she does care. Kids this age want to make a difference in some way. A book like Give a Goat or one of the other culturally rich books from Tilbury House publishers, will help children understand the needs in other areas. I think that some children would even enjoy a gift of this book and perhaps a gift card from Hands of Hope or Heifer International in lieu of another toy.
Tilbury House's website had additional information and discussion points for their books such as Give a Goat.
Managing Editor Jennifer Donovan is a contributing editor at 5 Minutes for Mom. She blogs at Snapshot about daily life with a tween daughter and a preschool son.