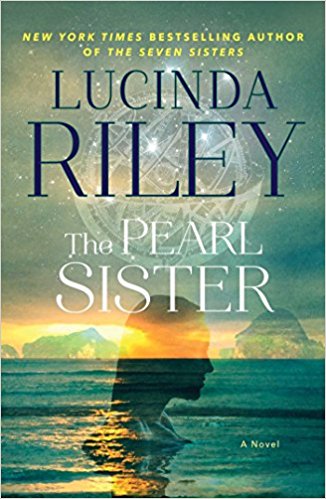 The Pearl Sister is book 4 of a series about a group of girls adopted by the enigmatic and elusive billionaire Pa Salt and raised in an idyllic setting on Lake Geneva known as Atlantis. The girls' origins span the globe and they are named after the Pleiades, the 7 sisters, although there are only 6 of them–the last one, Merope, was never brought home. The books open with the death of Pa Salt, and his clues given to each girl about her origins and family of birth. Each girl connects with a specific era and place, and part of the book is historical fiction which tells the story of the modern girl's ancestor. Coincidentally, all the girls are connected to famous people. (Yes that was sarcasm but the books are still fun to read) See my reviews of The Storm Sister: Book 2 and The Shadow Sister: Book 3 here. I will mention right up front that I hate the covers of this series, and would not pick them up in a bookstore. This one in particular bugged me, as there is no way that head on the cover could possibly belong to CeCe, the protagonist of the book, who is described as slightly plump with wild curls. If you find yourself responding the same way, at least read this review before you decide.
CeCe has always been very close to Star, her next sister. They're practically the same age, and fit each other as opposites. CeCe is loud and needy while Star is quiet and withdrawn, painfully shy. Cece is artistic and messy, but suffers from such debilitating dyslexia that Star has to do all the schoolwork for them both. Cece dominates her sister, and their eventual break–when Star finds herself and a new family, told in Book 3–is extremely painful. Cece decides to follow her own clues, given her by her father's lawyer, and head south. First she goes to Thailand, where on the beaches she meets the mysterious "Ace." It's really obvious that he's in hiding and has done something pretty terrible, but Cece is oblivious and happy to spend her time in a really lush mansion. At the end, they take some pictures together on a beach, and she hands her camera to a security guard to get the film developed, and leaves to fly to Australia.
When she turns her phone on the next day, she is inundated with messages from all her family, and one from Ace assuming she'd betrayed him. Of course that picture is splashed on the cover of every newspaper in the world, and Ace has had to give himself up. CeCe is now in Australia, headed to a tiny town called Broome, and she meets a girl with her same looks and coloring. The girl takes her to meet her grandmother, an Aborigine woman.
Meanwhile, the historical fiction part of the book is telling the story of Kitty McBride, a young Scottish woman who's given the opportunity to travel to Australia as the companion of a wealthy elderly woman. There she meets twins, loves one but marries the other, and sets in motion heartbreak that will last several generations. She also proves herself to be a remarkable business woman and a pioneer in the pearling business. She is also remarkably modern in her attitudes towards sex and race. As we trace her life's story, we find ourselves also tracing Cece's ancestry. We find out that things like her artistic talent and dyslexia fit right in, and CeCe begins to feel comfortable in her own skin for the first time in her life. She's come home.
Lucinda Riley spins a good yarn. She's a good storyteller, although not a great writer, and the amount of coincidence might bother you. Don't let it. Suspend disbelief, get yourself a comfy chair, a nice hot cuppa, and a rainy afternoon, and curl up and enjoy this latest in the series.