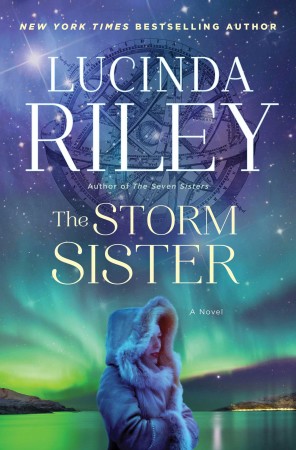 I am going to start by stating that I nearly didn't read this book because of its cover. Isn't that silly? You know the bromide as well as I do. But on the odd chance that you also dislike the cover, I wanted to mention that right off. Ignore the cover. It's a good read.
Ally is on a long weekend with her soul-mate and love of her life Theo when she turns on her phone to receive messages that her adoptive father, the beloved but mysterious millionaire she calls Pa Salt, has died. She is summoned to her childhood home, Atlantis, a palatial mansion on the shores of Lake Geneva, along with her other 5 adopted sisters. They are all very different, from different parts of the globe, and were named after the 7 sisters of Greek Mythology–except the last one, Merope, was never brought home.
Pa Salt has already been buried at sea, and the 6 sisters gather with their adoptive mother to receive his final instructions. He has left each girl coordinates and a letter containing clues as to her origin, should she choose to pursue them. And in fact, this is book 2 of a series that all begin the same way, with the sisters summoned to Atlantis and given these clues. Apparently the oldest sister, Maia, had her turn in book 1, and the last chapter of this book turns our attention to the third sister.
If you know anything about Greek mythology or if you read the back of the book, you won't be surprised that soon, a second earth-shattering event occurs in Ally's life, and it's this that is the catalyst to her beginning her search for her origins. The quest leads her to Norway, to the life of a young singer who was the "ghost voice" for composer Edvard Greig's version of Ibsen's poem Peer Gynt. A biography by the singer's eventual husband takes the couple to Germany, and the road follows the family for several generations. Ally has to learn what her own connection to the tale is. The book moves back and forth in time between the late 1800s in Norway, through World War II, and of course the present day, with Ally's story.
The Storm Sister is not a perfect book. Many aspects of it folded up just a bit too neatly for me, and it wasn't hard to guess what was coming. However, that didn't spoil it for me–it is a fun and engaging read, and I enjoyed it. I'm planning to look up a copy of book 1, and read all the others as they come out.