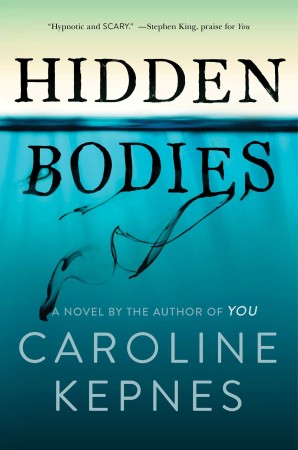 I'll admit that when I first accepted a review copy of Hidden Bodies by Caroline Kepnes, I had heard of You, her first book about endearing sociopath and book lover Joe Goldberg, but didn't know much about it. Like the endearing sociopath part. But I was intrigued by Hidden Bodies, and I'm glad I decided to give it a go.
Hidden Bodies picks up right where You left off, but if you didn't read that one, you won't be missing much. Joe tells you straight off about what he did to his ex, Guinevere Beck, and the others who got in his way. However, if you plan to read You, I strongly suggest doing so first, because Hidden Bodies is rife with spoilers from the earlier story.
When Amy walks into the book store where Joe works, he thinks he's found the perfect girl, the polar opposite of Beck. She spurns all things online, living under the radar, and he finds her scams of unsuspecting strangers fun and exciting. But when Amy screws him over, he realizes she never loved him at all, and follows her to L.A. to seek revenge.
L.A. is a whole different world from New York, and while initially Joe despises all he encounters, eventually the bright lights of Hollywood call even to him. He is enchanted by a local grocery store, The Pantry, and while looking for Amy, meets Love, who along with her twin brother, Forty (their parents are huge tennis enthusiasts) are filming a movie. It turns out Love and Forty are the offspring of The Pantry's owners, and Joe quickly becomes accustomed to living the lifestyle of the rich and famous.
If anyone can change Joe's murderous ways, it's Love, but can he let go of his suspicious and jealous nature? It doesn't help that he feels a pull to return to Rhode Island to dispose of some evidence left behind, and that the psychiatrist he framed for Beck's murder may lead the cops right to Joe.
Hidden Bodies is not for everyone. If murder, sex, language, drinking, drugs, and a whole host of other similar topics aren't your thing, then don't bother with these books. But if you like getting inside the heads of crazy but fun characters, reading whip smart dialog and trying to figure out what they will do next, then Hidden Bodies is highly recommended. I for one loved it.
Notes on the audiobook: Hidden Bodies is narrated by Santino Fontana (the voice of Hans in Frozen), who also narrated You.  He is the perfect choice for the voice of Joe and he really makes the story come alive.