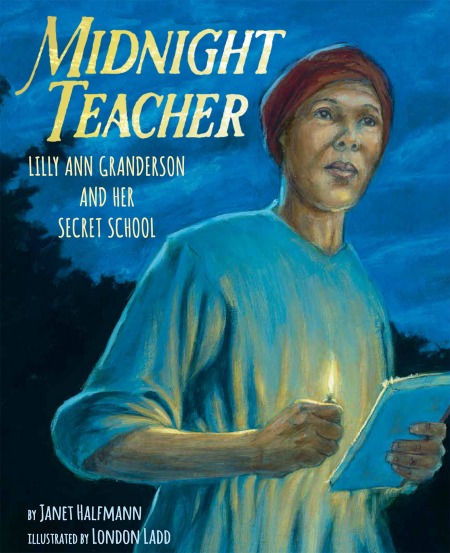 Introducing children to history through nonfiction picture books is valuable and helps young readers access stories in ways that are developmentally appropriate to them. A book that also introduces a story to the adults sharing it with a child is a bonus win. Midnight Teacher: Lilly Ann Granderson and Her Secret School written by Janet Halfmann and illustrated by London Ladd brings to life the story of an enslaved woman in the 1800s who risked her life to share the power of education.
Lilly Ann Granderson was born to an enslaved woman in Virginia, but when she was quite young, she was sold to a family in Kentucky. At this young age, she was forced to work in the master's house, and because of her proximity in age to the master's children, she sometimes found ways to play with them when the adults were not paying attention. From these experiences, she came to possess a speller– an introduction to the alphabet– and she taught herself to read. Though it was not technically illegal for enslaved people to learn to read and write, even young Granderson knew to keep her speller and her practicing to herself.
As Granderson grew older and her skills grew stronger, she began to share her knowledge with others. Risking being found out, she began to gather enslaved children on Sundays when the master's family was away at church. In this way, Granderson first became a teacher to other children forced into slavery.
Life changed when Granderson was sold following her master's death. Though life as a slave in Kentucky was obviously not pleasant in any way, it only got worse when she was sent to Mississippi and was forced into much more physical labor in field work. When Granderson wanted to continue her work educating her fellow slaves, the risks were significantly higher in her new locale, as it was illegal for enslaved people to learn to read and write in Mississippi. The details of how she managed to not only educate individuals but get them to share their newfound skills with others, as well, are incredible and nothing short of miraculous. Granderson exhibited bravery beyond what most can even imagine, and her story– one that I had never heard in my 42 years of life– needs to be told.
Of course, as a picture book geared to children in 3rd to 5th grades, this isn't an exhaustive history recap, but Granderson's basic story is told with a focus on how the experiences must have affected her physically and emotionally. An afterword is included that shares more specific information about life for enslaved people in the deep South in the 1800s, and over a dozen references are provided, as well.