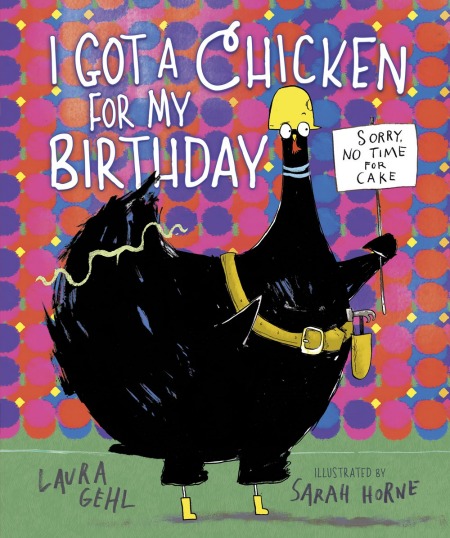 Poor little Ana. She asked Abuela Lola for tickets to an amusement park for her birthday, but instead, Abuela Lola sent her the strangest gift she'd ever received. Laura Gehl's new picture book, I Got a Chicken for My Birthday is perfectly silly and sly, a celebration of the imagination that comes naturally to children and provides joy and laughter.
It's Ana's birthday, but the spotlight seems to have shifted from her to this crazy gift she received from her grandmother– a rainboot-wearing black chicken. Ana tries to acclimate to being a new chicken caretaker, giving it food and looking up recipes for cooking eggs. But what she quickly finds out is that her chicken isn't quite like what she expected. As she carries various signs, the chicken lets Ana know that she won't be spending her time laying eggs. In fact, she presents Ana with a gigantic shopping list that gives some little hints to the chicken's secret agenda.
While the adults will likely see what's coming, children will no doubt let out some giggles as it becomes clear that Abuela Lola's wacky gift of a chicken was exactly what Ana wanted! Sarah Horne's lively and colorful illustrations set the tone for fun, perfectly capturing the whimsical mood of the book. Grab this one for your next read aloud and it will be a certain hit!