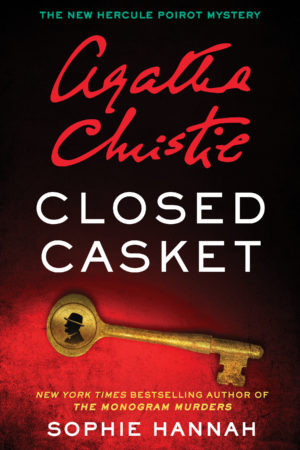 Closed Casket is Sophie Hannah's second foray into the world created by beloved mystery author Agatha Christie, and I think she's very brave to even try. Hannah stands on her own as an excellent author of really creepy domestic thrillers (curious? Here are a couple of my reviews on her books The Other Woman's House and Kind of Cruel) in which no one is sure who's going insane and who is just unadulterated evil. So when the estate of Agatha Christie decided to try and revive Hercule Poirot, her famous Belgian detective who surely needs no introduction to readers of a website about books, they turned to Hannah to do so.
Like in her first Poirot book, Monogram Murders (linked to my review), Hannah tells things from the point of view of a new sidekick for Hercule Poirot–a policeman named Edward Catchpool. I think she's modeled him on Christie's character of Captain Hastings, Poirot's slow and stupid sidekick, and one of my least favorite of Christie's characters. Pretty much anyone that Hastings admires is certain to be a villain. Catchpool is much more subtly drawn and sympathetic. He's much younger than Poirot and looks up to him.
The novel opens with the duo visiting the Irish country home of Lady Athelinda Playford, the popular children's author, who has recently dropped a bombshell on her lawyer. She has decided to disinherit her two children in favor of her secretary, who is a dying invalid under the care of a round-the-clock nurse. She won't tell Poirot and Catchpool why they're invited, but Poirot is suspicious. Does Athelinda expect a murder? She certainly seems to.
A murder does occur, and it's up to Poirot and Catchpool to deal with the recalcitrant local police, research the dead man's past, and in other ways look for clues. Because it doesn't make sense to kill this particular man, and the witness who stumbled upon the body has a story that also makes no sense.
Hannah is growing in her ability to recreate Christie's world, but she still has a ways to go. Poirot reads like a series of ticks and mannerisms, rather than like a real character. He feels very wooden. Catchpool is better, but still not as fleshed out as Hannah's characters from her own books. Of course I have no complaints about the plot–Hannah is brilliant at creating puzzling mysteries and characters with motives that are beyond murky. Towards the end, I found myself really enjoying it, but I have to admit that those tended to be the parts without Poirot. An improvement, but I wish Hannah would go back to writing about women who might be insane and their evil, evil husbands.