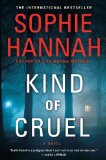 Kind of Cruel
opens with a sort of meditation on the difference between story and memory, and that's a theme that reoccurs throughout the book, with riffs on memory and how much we can trust our memories, on truth and the lies we tell ourselves and others. As Amber re-examines past events that seem to have some bearing on her current situation, she probes deeper and deeper into a mystery surrounding her own family. Sophie Hannah writes what are called domestic thrillers, and this book in particular really lives up to the name. Because what could be better, more laudable, than a woman who sacrifices certain things in order to care for her family?
Kind of Cruel
adds a really creepy twist of motivation. In an interview, Hannah explains that certain kinds of threat are external and readily understood and explained to others–for example, someone coming at you with a knife. But psychological terrors can be even more dangerous, and are all the more deadly for not being easily recognized. Kind of Cruel
includes some fairly lengthy bits in the voice of the therapist, explaining different diagnoses and how they're playing out in various characters, and how emotional abuse can lead to enormous consequences later on in life. Although this slows down the action, it deepens it at the same time. You'll be looking at your own family members a little bit differently!
The novel shifts between perspectives and a large chunk of it is not narrated by the protagonist herself. It starts rather slowly, but inexorably draws you in, deeper and deeper into a nameless sense of dread. It's not a typical plot-driven page-turner, but by the time you're hooked you won't want to put the book down.
Kind of Cruel is the latest in the Waterhouse/Zailer series–a husband and wife team of detectives whose marriage could best be described as post-modern. In the beginning of the book, while waiting to go in to the therapist's office, Amber runs into another woman who's also waiting–Charlie (Charlotte) Zailer, smoking while she waits and there to see the therapist about stopping. It's this connection that leads Amber to being questioned by the police, although Simon Waterhouse treats her more like a colleague than a suspect. Although each book continues the relationship between Simon and Charlie, at the same time each book stands independently.
Sophie Hannah always manages to create characters that ring true as real people–even when they're not exactly sympathetic characters you'd like to have a coffee with. I actually adore her stuff, and this one's no different. I definitely recommend it.