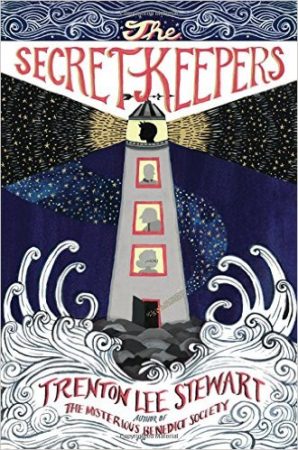 Publisher's description: When Reuben discovers an extraordinary antique watch, he soon learns it has a secret power and his life takes an intriguing turn. At first he is thrilled with his new treasure, but as one secret leads to another, Reuben finds himself torn between his innately honest nature and the lure to be a hero.
Now he is on a dangerous adventure–full of curious characters, treacherous traps, and hairsbreadth escapes–as he races to solve the mystery before it is too late. Even with fearless Penny, mighty Jack, and the wise Mrs. Genevieve on his side, can Reuben outwit and outmaneuver the sly villain called The Smoke and his devious defenders the Directions and save the city from a terrible fate?
I LOVED Trenton Lee Stewart's former series, Mysterious Benedict Society, as did my tween daughter who progressed to a teen as they were released throughout the years. I have been eagerly awaiting his next project. High expectations are hard. I wanted to feel all the feels that I did with MBS, and eventually I did, but I didn't connect with this one until probably 100 pages into it (which is only 20%, because it's so long). Part of the problem is that whole first part is just Reuben, and while I enjoyed getting to know him, it just was a bit drawn-out.
That said, once he started the next phase of his adventure, I was in hook, line, and sinker. The interactions that he had with the new characters he met were great, and their caper — to save the world, or at least New Umbra — was exciting and suspenseful.
I thought I had read that this was part of "The Secret Keepers" series, and if so, I'd definitely pick up the next book with the established characters. If not, it stands alone well, especially if you have a dedicated bookworm that can get through a lot of words. My 12-year-old son gave up, but there are parts of this book that will stick with me. As expected, the characters are warm and delightful if you take the time to get to know them. It was beautifully written, if a bit wordy and long to get started, but I'll definitely give the next one a go.