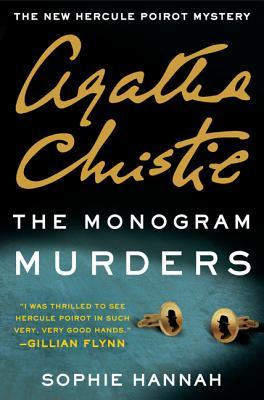 The question that kept occurring to me while reading Sophie Hannah's The Monogram Murders was not who but why? The novel came out last year, but the paperback version was just published. So probably many of you have already heard about it or perhaps already read it. Sophie Hannah writes super-creepy domestic thrillers, books that will keep you up late at night wondering if the woman's husband can possibly be that evil or if she's insane, or what really happened to the first baby? She's a terrific writer and I can see why, given that someone somewhere decided the world needed another Hercule Poirot book, she was chosen to write it. The question, as I pointed out, is why? Or to put it a different way, does the world really need another Hercule Poirot book, now that his creator is dead and has been since 1976?
Perhaps it won't surprise you that I'm going to posit that the answer is no. Because Poirot is not Hannah's creation, and in her hands he's somewhat lifeless. The Monogram Murders reads like a puzzle. One could argue that Christie herself, in spite of her greatness and the awe with which her name is generally treated, did in fact write some books that read more like puzzles than like living breathing characters, and I would agree. But that's not the point. It's very hard to write someone else's character–you're worried constantly about getting the voice and mannerisms right, and as a result the character is either false or lifeless. Hannah falls into the second error. Others who have tried (Jill Paton Walsh trying to channel Dorothy Sayers springs to mind) have fallen into the first, where Walsh's Lord Peter and Lady Harriet are just wrong. I haven't read Sebastian Faulks attempt to do Jeeves but I've heard similar complaints. And my personal opinion is, don't even try. Yes we're all sorry not to have more of (insert favorite dead author here). But, in case you haven't noticed, that is life. Get used to disappointment.
However,  Sophie Hannah is a terrific writer and she's done as good a job as could possibly be done. The Monogram Murders
has a very good plot, a puzzle as good as anything created by Dame Agatha herself. Poirot himself animates the mannerisms and ticks we've come to expect from him, and he has a new hapless sidekick, Edward Catchpool of Scotland Yard, who happens to live at the boarding house where Poirot has come to spend a quiet month. He's duller than Hastings (Poirot's companion in many of Christie's books) and, for a policeman, has a strange aversion to dealing with dead bodies that I felt never came into its own as a literary device.
The book starts out terrifically. A woman, frantic, upset, comes into the coffee shop where Poirot habitually takes his evening meal on Thursdays. She announces to him that she is going to be dead soon and that she deserves it, that it needs to happen for justice to be done. Later that night, Poirot discovers that 3 people have in fact been murdered, their bodies laid out neatly in the rooms of a nearby hotel. Each one has a monogrammed cufflink placed in their mouths with the initials PJI on them. And something the woman in the coffee shop said seems to point out a connection, and imply that she is to be the fourth victim.
Poirot sets out to find her, to find the connections between the 3 victims, to find out who PJI is. The trail leads him to send Catchpool to a small village, where he befriends the vicar's widow, finds out the backstory on the victims, and forms some rather strong opinions as well (much as Hastings would). Of course, only Poirot is brilliant enough to see through layers of deception and misleading clues to arrive at the truth.
Overall it's not a bad book at all. If you like Christie you may well enjoy it. The plot is good, the characters aren't bad. It's just that Sophie Hannah is a brilliant author. I've got her latest upstairs (it publishes in August) and I can't wait to sit down with it. Whereas The Monogram Murders was adequate, fine, but not up to either her usual work or Agatha Christie's. And it's always a bad sign when you've written a book, but someone else's name dominates the cover!