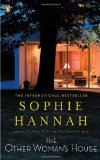 Connie isn't sure if she's losing her mind or if she's being discerning. First of all, months ago when she was driving her husband's car, she entered "home" into the GPS and instead of taking her to her house, it took her to a different house in a neighbouring town. Is he leading a double life? She confronted him and of course he denied it, but she's become obsessed with the other house, and with the woman who lives there (apparently alone), and it's affecting their marriage. She loves Kit, but she doesn't trust him, for reasons that seem logical to her, if not to the reader. She's gotten into the habit of visiting the house, even following the woman.
So when she sees that the house is for sale, she's interested. Late one night unable to sleep, she logs onto a realtor's website and clicks on a "take-the-tour" button that shows each room from 360 degrees. And in one room, lying on the floor in a welter of blood, is the body of a dead woman–one who superficially at least resembles Connie. She shrieks, naturally, and rushes to wake up her husband. When he views the same site, there is no body to be seen.
Is Connie crazy? Or is her husband evil and driving her to insanity through clever manipulation? I have to say that I honestly didn't know until nearly the end, although of course I had an opinion. And what is up with the Gilpatricks, a family whose solidly-ordinary lives, represented in a series of shopping lists and school reports, are somehow linked, at least in Connie's mind, to her impending death and present danger. I ignored my house guests to find out.
The Other Woman's House: A Novel
is the latest by Sophie Hannah, and it more than lives up to her previous works. It follows others in a loose series based on detective Simon Waterhouse and his colleagues and friends. In this one, Simon has just married Charlie (they are both detectives and their relationship has been developing, for lack of a better word, through previous novels) and the two of them are on their honeymoon. Charlie's frustration with Simon's emotional distance, and her mistrust of the reasons why he's being distant, serve as a nice echo to the relationship between Connie and Kit. There are other subplots as well.
I will say that the character of Connie was sometimes grating. She is needy, whiny, and obsessive, and I sometimes had the urge to slap her (metaphorically). Other reviewers have viewed this as a weakness, but I feel it's a strength. You don't know whether or not she is truly going insane. You don't know if you trust her judgement or not. There have been other issues–her relationship with her overbearing parents for one, her lack of ability to make decisions on her own another.
Hannah's works function more as psychological suspense than typical murder mysteries, and her plots are complex and involved. I thoroughly enjoyed The Other Woman's House: A Novel
(well, when I wasn't wanting to slap Connie) and I highly recommend it.
Elizabeth just spent some of her valuable time reading descriptions of all of Hannah's other books on amazon, and realizing a trip to the library is necessary. Learn more at her blog Planet Nomad.