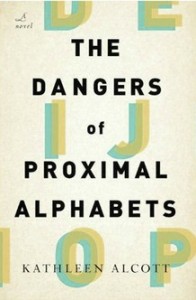 Some books establish a tone right from the beginning, and in the case of Kathleen Alcott's debut novel The Dangers of Proximal Alphabets, that tone is vaguely ominous and rife with a dark sadness. Though that might sound extremely negative, I found myself wholly entranced with this story and its protagonist's riveting storytelling.
The story of Ida and Jackson, childhood neighbors who remain important figures in each other's lives into adulthood, is laid out for readers in a jagged line, as Ida recalls moments from their shared experiences over the years. From the beginning, Ida consistently uses the past tense, but the present day isn't clearly defined, leaving readers to wonder how much time has passed since the time of her memories. There is a sense of loss apparent in her memories, and their intensity is in line with the type of connection that has always been in place between the two, even since their first meeting as infants.
Our parents liked to say that the first time Jackson and I met, we concentrated our focus so intently, grew so still, that they worried our little bodies might have forgotten we'd exited our watery beginnings, neglected the duty to breathe in and out. On the floor of the living room we turned our still-soft skin toward each other and blinked before demonstrating our talents in gripping and releasing: my five fingers around his chubby wrist, then his in embrace of mine."
As Ida continues to narrate vignettes of her life with Jackson, the story cannot be complete without the presence of Jackson's younger brother James. James bore witness to the ups and downs of their friendship throughout childhood, most especially the prevalence of Jackson's somnambulism. Much of Ida's childhood nights were spent sleeping over at Jackson and James' house, and her young fascination with the odd back-and-forth verbal interactions between the brothers as they slept only grew as Jackson's nighttime behaviors became more drastic than just words mumbled in his sleep. The significance of his behaviors gradually became a topic of almost-obsession for Ida, leading to the big fallout between them that is hinted at throughout the entire narrative.
Without saying much more about the actual events in The Dangers of Proximal Alphabets, I can wholeheartedly say that I was blown away by both the incredible character development conveyed in bits and pieces as memories are unveiled, as well as the beautiful way in which Alcott weaves words together to create detailed images in readers' minds. Ida's narration conveys a timeless feeling, the way memories can feel both immediate and so distant in time when shared. The reading experience resulting from the nontraditional storytelling timeline can be likened to completing a puzzle– pieces are revealed individually and put in place here and there, until in the end, the whole picture can be seen.
Have I left you intrigued? We have a copy of this intense debut novel to give away to one lucky reader. Please leave a comment to be entered to win. (US shipping addresses only, please.) We'll announce our winner in our September 26th giveaway column. This giveaway is now closed.
Dawn loves to fall in love with a book, and when she's not reading, teaching preschool, folding laundry, or playing the role of Mom to three little ones, she tries to blog just a little bit at my thoughts exactly.
Don't miss a thing: Check out our current giveaways. Subscribe to our feed or video reviews on YouTube. Follow us @5M4B on Twitter or on Facebook.