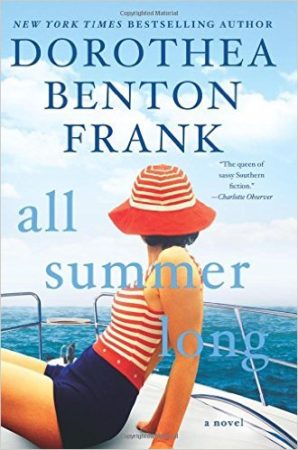 All Summer Long is a great summer read, full of fun locales like beach houses, private planes and yachts and even a private island. There are also several sweet romances and even a  wedding. I was enjoying all these elements quite well, when a missing person jumped into the mix, adding suspense and excitement to the story.
Olivia is an interior designer. She's been working in New York City for years, with more business than she can handle. Nick, her professor husband has just retired, and per their agreement when they married, they are moving to a beach house in the Carolina lowcountry. Olivia loves Nick, but she feels like a fish out of water in the south, and she's worried about how it is affecting her business.
She's worked for Bob Vasile's wives for years. His current wife Maritza is sort of like a daughter to her, certainly preferable to the shrew Colette that Bob left her for, but now Maritza is concerned that the same thing is going to happen to her. She invites Olivia and Nick along on a trip to a private island as moral support and so that she can observe Bob and the nanny and the way the other wives gang up on her. The lives of the uber-rich make a fun and interesting background to the story, perfect for a beach read.
Olivia and Nick serve as the outsiders on the periphery of that lifestyle, which serves to make light of it, making it almost farcical, especially when the completely deplorable actions of the women come into play. Vacations on a private island, jaunts in a submarine?? Trying to buy a 26 million dollar beach house?? It's a life that exists for some, but not most of us.
These elements make this novel fun, but that's not what it's about. It really is a novel about starting over, as Nick and Olivia do in their personal lives, and Maritza is determined to do in her marriage. As I mentioned above, when one of the characters goes missing, the story rachets up, giving it an unexpected twist.
I have read quite a few novels by Dorothea Benton Frank in recent years. I enjoy the character development and well-paced plots. Check out my reviews of her other novels:
The Last Original Wife
All the Single Ladies
The Hurricane Sisters
Porch Lights
Read the Q&A with Dorothea Benton Frank over at 5 Minutes for Mom to get some more information about how these characters came to be, and similarities and the connections to the author's life.
Find out more at the TLC Book Tours page.