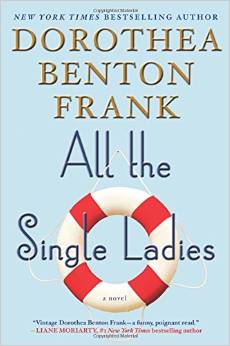 I love novels about friendship, starting over, mysteries in character's lives that have to be sorted out, that are told with humor and heart, and All the Single Ladies has it all. I've come to expect sweet stories with great female characters from Dorthea Benton Frank, and this one lived up to it.
Lisa is a little down on her luck. A failed business venture has her barely making ends meet. The eldercare facility where she works as a nurse is fulfilling, but they are cutting back, so what was barely meeting her needs now leaves her in dire straights. The daughter of the landlord of the place she was living on the cheap shows up and kicks her out. She and her adult daughter aren't speaking.
When a patient dies, Lisa ends up helping her close friends get her affairs in order. They all know Kathy was a wonderful person, but when she dies, they find out that there's a lot that they don't know about her. They end up working together to figure some things out.
Lisa is glad Kathy had friends to take care of her, since she doesn't seem to have any family. Lisa begins to see that Carrie and Suzanne might be able to fill a void in her own life that she didn't even know she had. The reader learns about Lisa — and also Carrie and Suzanne — as their friendship develops. Add a few dates into that mix, and there's a whole lot of change going on.
The characters are somewhat larger than life in cases, but also so likable (or unlikable) that they drew me right into the story.
Dorothea Benton Frank has quickly become a go-to author for me for light, entertaining fiction. She is one of the authors I mentioned in my 5 Minutes for Mom post: Why You Need a Summer Reading List. Please click through and check out my 5 Tips for Creating a Summer List.