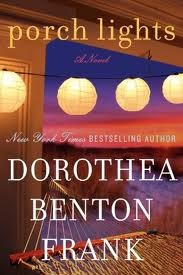 I don't think I've read one of Dorothea Benton Frank's novels, but her name is definitely familiar to me as a writer of Southern Low-Country (South Carolina coast) fiction. When I received a copy of her latest book in the mail, I knew I wanted to add it to my summer reading list. With some romance, a beach island setting, and a lighthearted style, Porch Lights definitely falls into most people's idea of the perfect summer read.
Jackie is a nurse who has served a couple of tours in Afghanistan, but when her firefighter husband is killed in the line of duty in Brooklyn, she knows that she's going to have to make some changes in her and her 10-year-old son Cbarlie's life. Her husband's aunt always helped out when she was deployed, but now she needed to be sure that Charlie had a parent around who didn't have a dangerous job.
They go to Sullivan's Island to spend the summer with her mom Annie. It's not easy returning to your mother's home as an adult, but Charlie seems to blossom there. The island is a safe place for him to explore and just be a kid, unlike their Brooklyn neighborhood where Jackie felt much more protective of him. Jackie and Annie have some typical mother-daughter conflict, but Annie seems to be doing her best to make Jackie feel comfortable and safe.
There are also a few romantic storylines (sweet but tame — not bodice-ripping, unlike the books that Annie enjoy but tries to hide).
Porch Lights is a story with a rich setting — you can practically feel and smell the salt air as the richly-drawn characters sit out on the porch each evening enjoying the company of their neighbors. I enjoyed getting to know the island and each of the characters, from sweet Charlie to uncertain Jackie, to quirky and funny Annie.

I'd love for you to join in the discussion. Have you read any of Dorothea Benton Frank's novels? Which is your favorite?
Jennifer Donovan is thankful for her SAHM-life, an unscheduled summer, and children that entertain themselves that gave her the opportunity to indulge her love of summer reading, even though it keeps her from blogging regularly at Snapshot.